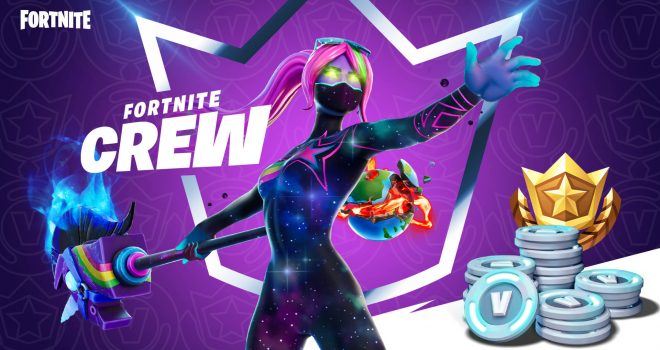 Beginning December 2th with the arrival of Chapter 2 – Season 5, Epic Games is launching Fortnite Crew, a subscription offer for getting unique Fortnite content!
Joining the Fortnite Crew gets members everything below for $11.99 USD each month:
Battle Pass Included for the full Season – As a member of the Fortnite Crew, you'll always have access to the current season's Battle Pass!
1,000 V-Bucks Each Month – Fortnite Crew members will receive 1,000 V-Bucks every month. Spend it on your favorite Item Shop content!
Get A New Monthly Crew Pack! – Get an exclusive Fortnite Crew Pack, an always-new Outfit Bundle that only Fortnite Crew members get.
When Fortnite Crew launches on December 2, subscribed members of the Crew will exclusively get this all-new Outfit and Style plus the Cosmic Llamacorn Pickaxe and Fractured World Back Bling.
The NEXT pack coming exclusively to Fortnite Crew Will be unveiled before the end of December and going forward before the end of the month.