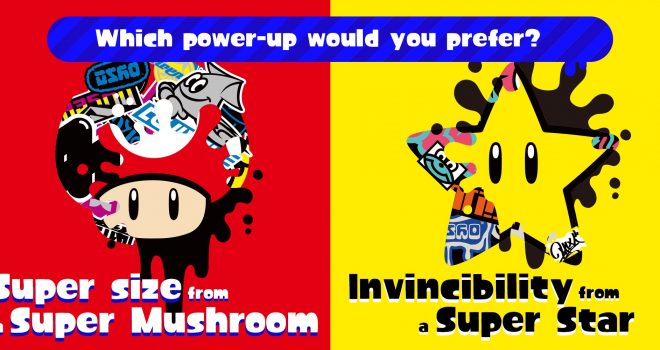 It's a Mushroom Kingdom crossover of splatacular proportions! Off the Hook is coming back for an encore, and all Inklings and Octolings are invited to participate in a brand-new Splatoon 2 Splatfest. Top contenders may even receive a commemorative Super Mario Bros. 35th Anniversary coin!*
But first things first. If you're not familiar with Splatfests, they are large in-game Splatoon 2 events where players champion one of two causes. Both sides will meet in fierce Turf War battles during the event, and a winning side is declared at the end of it.
This Splatfest will be:
January 15th 5:00pm. ET – January 17th 5:00pm ET
Ah, but what is the theme, you ask? Well, you're probably not asking because the image in the article gave it away. But let's pretend that you didn't see the image. You'd then be surprised to know that the theme is: Super Mushroom vs. Super Star!
So which powerful power-up do you prefer? Do you favor Super Size with a Super Mushroom (putting the fun in fungi)? Or do you like to blaze your own trail with Invincibility from a Super Star (making your opponent see stars)? Either way, both choices are rather super.
Owners of Splatoon 2 can pick a side right now in the game. Just don't forget to play when the Splatfest is actually happening!