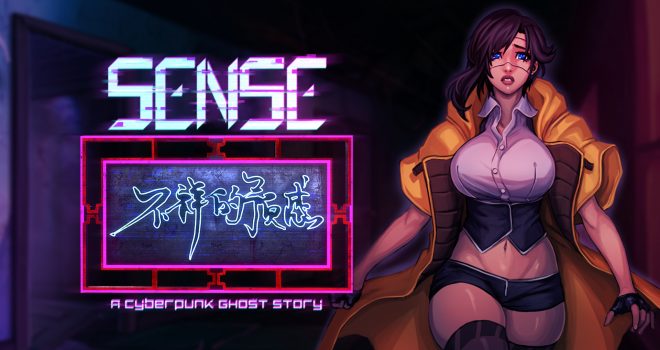 Sense – A Cyberpunk Ghost Story – In Neo Hong Kong, 2083, a young woman named Mei Lin Mak is dragged into a maelstrom of supernatural horror. As she peers into the century old mystery, Mei is forced to question her perception of reality and her trust of her cybernetic eyes. Under the neon lights of a cyberpunk cityscape, the ruins of the Chong Sing Apartments hide a bloody secret illuminated by the traditions of Chinese folklore and innovations of the industrial future. If there is any hope of escaping this nightmare, Mei Lin must explore this complex, piecing together stories of 14 lost souls and discovering the truth of her own family curse.
Yumemidori Nostalgia – That is the "magical spell" passed down from grandmother. One particular summer, Yoshino (main character:Renameable), a 17-year-old girl, follows a butterfly through the main gate. Beyond the gate, she finds herself in Taisho Era red-light district of Yoshiwara, where the cherry blossoms are in full bloom. There she encounters Harufumi, a young writer, and Kocho, a male geisha. Yoshino tries to find her way back to modern times while searching through the Yoshiwara district, where the nights are wild and rowdy …  – Available Jan. 11
Also New this Week:
DEMOS:
Available now through the month of January, a MONSTER HUNTER RISE demo is available as a free download from the Nintendo eShop for Nintendo Switch, serving hungry hunters around the world their first taste of the highly-anticipated new entry in the storied franchise. The full game launches worldwide for the Nintendo Switch system on March 26, 2021.
Activities:
Kirby Delivers Some Tetris® 99 Fun – The 19th MAXIMUS CUP event for the Tetris 99 game allows you to earn an in-game theme based on the Kirby Fighters 2 game. Now you can channel your inner fighting spirit into Tetris 99 on the Nintendo Switch system as you aim to hit your opponents with a flurry of Tetrimino-clearing combos in this action-packed MAXIMUS CUP. The Tetris 99 19th MAXIMUS CUP event runs from 11 p.m. PT on Jan. 7 to 10:59 p.m. PT on Jan. 11. To participate, Nintendo Switch Online members* just need to play the Tetris 99 online mode during the event period. Players will earn event points based on their placement in each match. Once players have accumulated a total of 100 event points, a new theme will unlock, featuring background art, music and Tetrimino designs inspired by Kirby Fighters 2!
Nintendo eShop sales:
Nintendo eShop on Nintendo Switch, Nintendo 3DS and Wii U