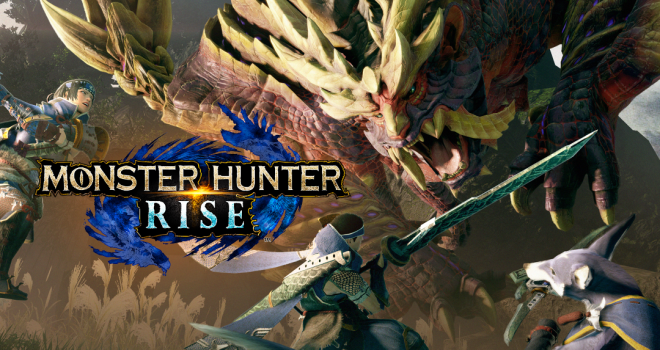 During the "Monster Hunter Digital Event" today, Capcom shared new details for Monster Hunter Rise, the upcoming entry in the award-winning and top-selling Monster Hunter action RPG series.
Available now through the month of January, a Monster Hunter Rise demo is available as a free download from the Nintendo eShop for Nintendo Switch, serving hungry hunters around the world their first taste of the highly-anticipated new entry in the storied franchise. The full game launches worldwide for the Nintendo Switch system on March 26, 2021.
The free limited time Monster Hunter Rise demo runs through January 31st, giving players ample time to enjoy a sampling of this all-new Monster Hunter experience. The demo provides players with numerous hunting options, including offline solo and (up to 4 player) offline local and online multiplayer gameplay using all 14 weapon types. The following modes and quests are available in the free demo:
Training – Learn the basics of monster hunting, including an introduction to the new Wirebug mechanic and Palamute riding. Solo play only.
Wyvern Riding – Enter an arena to experience Wyvern Riding, a new feature that allows hunters to ride and guide monsters for a period of time. Solo play only.
Beginner Quest: Great Izuchi – Ideal for first time players or hunters who need a refresher course. Solo play, local multiplayer and online multiplayer.
Intermediate Quest: Mizutsune – A fierce challenge for experienced players only. Solo play, local multiplayer and online multiplayer.
The demo provides hunters with a total of 30 quest attempts, which are shared between both (beginner and intermediate) quests. The Tutorial and Wyvern Riding training do not count against the 30 quest limit, but those modes cannot be accessed after the limit is reached.
Also revealed today, the icy Goss Harag is an entirely new monster that will make its debut in Monster Hunter Rise. This fanged beast will send a chill down hunters' spines, as he roams through snowy fields in search of new prey and attacks using blades of ice. Goss Harag is right at home in the Frost Islands, a new snow-capped and windswept locale that was once the nesting grounds for large dragons, who only the bravest hunters would attempt to slay.
Many other classic and fan-favorite monsters will be returning to join the ever-growing roster of foes in Monster Hunter Rise. In addition to the previously-announced monsters, these seasoned threats will also make their presences known: Lagombi, Khezu, Great Baggi, Barioth, Mizutsune, and Tigrex. More new and returning monsters will be revealed in the months ahead.
Monster Hunter Rise is an action RPG that will transport players to the colorful Kamura Village, which attracts visitors with its unique culture and innovative hunting technologies. After hunters equip their armor and select from one of the various weapon types, all-new hunting grounds await, including the ancient Shrine Ruins, Flooded Forest and more. The debut of the new "Wirebug" mechanic allows for wire-based grappling actions that can be used to scale cliffs and other hard-to-reach areas, providing new traversal and aerial attack options. The game will also debut new hunting partners called Palamutes, personalized and rideable "Canyne" companions that will provide players with a new set of attack options, while "Felyne" Palicoes will return as support characters for actions like healing.
As Monster Hunter Rise players defeat monsters and progress through the game, items from fallen foes can be used to craft unique weapons and armor that will increase their chances of future success and survival. Hunters can tackle these challenges solo, or with up to three other players in local or cooperative online play, while also taking advantage of the versatility of the Nintendo Switch system, which allows for hunting anywhere, anytime and with anyone!