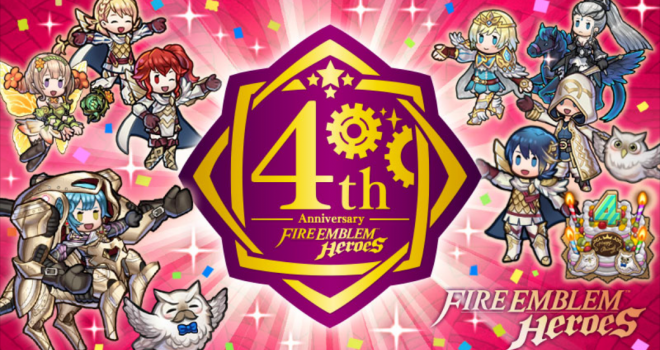 Nintendo's first foray into the mobile game space, Fire Emblem Heroes, has reached its 4th anniversary. To celebrate the milestone, the game is holding a series of 4th Anniversary events with an array of updates and rewards.
4th Anniversary Log-In Bonuses
Orbs, Trait Fruit, and more will be distributed through Log-In Bonuses for a set period.
Special Hero Summon (Year 4)
Active from 2/1/21 at 11:00 p.m. PT to 2/28/21 at 10:59 p.m. PT
By participating in this special summoning event, you can gain a Special Hero as your ally—and they're guaranteed to have a 5★ rating! Every Special Hero who was added to the game between 2/1/20 PT and 1/1/21 PT is included in this event.
Special Hero Summoning Event: "Love of a King"
"We who have fought for the ones we loved…" Special Heroes have gathered with flowers in hand to celebrate the Day of Devotion!
These Special Heroes are available as part of 5★ summoning focus during this event.
But that's not all… This event's Special Heroes also appear in the new Paralogue story, "Love of a King," and there are some limited-time quests to go along with them. There's even a Log-In Bonus where you can get Orbs up to 10 times before 2/17/21 at 10:59 p.m. PT.
4th Anniversary Hero Fest
Four Heroes that have gained unparalleled popularity and power will be featured in this summoning event. During the active period, the initial appearance rate for the 5★ focus Heroes will be set to 5%!
My Summoner
To be included in the Version 5.2.0 update planned for 2/4/21.
Pick between seven different looks for your summoner avatar. Choose your summoner's name and write a greeting that can be shared with your friends. There are even accessories that can only be worn by summoners, so try some on and find your best look.