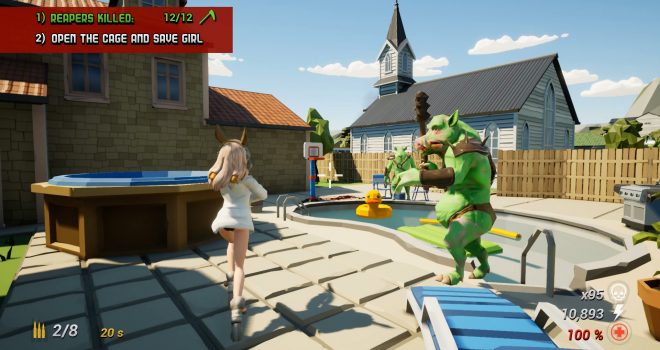 Eastasiasoft just revealed their latest video highlighting a wide variety of titles scheduled for release in February and March 2021 across Nintendo Switch, PS4, PS Vita, Xbox One and Steam. The "Winter Showcase Part 2" is made in the Dane style as a Nintendo Direct and provides a quick and informative reference for Eastasiasoft Limited's upcoming lineup in worldwide publishing.

Bishoujo Battle Cyber Panic!
(March 11th – Switch / PS4)
Inspired by the naughty back room arcades of '90s Japan, Bishoujo Battle Cyber Panic! offers the instant gratification of a sub-genre that's both easy to learn and fun to master. Start each action-packed stage with a silhouetted girl behind the playfield and dodge enemies while drawing lines that cut away when connected, methodically uncovering the image underneath.
This looks like a simple puzzle game not too dissimilar to the game Qix from back in the day. Nothing too complicated but a little distraction game for small breaks in life.

Hentai vs Evil
(March/April 2021, Switch / PS4)
In Hentai vs. Evil, demons have invaded the city, the suburbs and even the beach, turning the residents into flesh-eating zombies and throwing cute girls into cages. It's time to stop the madness! Rescue those girls, have them join your ranks as you take down the source of evil in a rain of bullets and look good doing it.
This game reminds me a lot of Fortnite (Save the World, not battle royale). It looks like a lot of zombie shooting with a sultry waifu aesthetic.
#SinucaAttack
(February 10th – Xbox One / Switch / PS4)
This game is a puzzle platformer with an interesting pool ball mechanic. With each room you enter, challenges get increasingly complex, introducing new stage gimmicks to manipulate and obstacles to overcome. Ricochet your shots off the floor, ceiling and walls to activate switches and open doors. Even use jet packs to reach new heights as stages go vertical! But watch out for pitfalls, and be careful not to trap yourself inside.
Other games featured in the presentation included:
Synergia (March 18th – Switch digital / PS Vita physical)
Habroxia 2 (Available Now – Steam / Xbox One / Switch / PS4 / PS Vita)
Retrace: Memories of Death (February 24th, Xbox One / Switch / PS4)
Void Gore (February 17th, Xbox One / Switch / PS4)
Cave Bad (March 3rd, Xbox One / Switch / PS4)