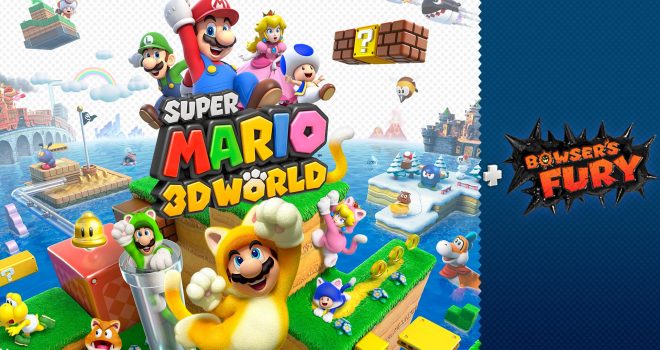 Super Mario 3D World + Bowser's Fury – Sink your claws into two action-packed Mario adventures! In the Super Mario 3D World part of the game, adventure through a whirlwind of colorful courses with friends, with online* and local** co-op multiplayer for up to four players. In Bowser's Fury, you'll freely frolic through Lake Lapcat, an explorable world with a variety of islands. This time Bowser's bigger, badder and madder than ever before. Grab a buddy to play as Bowser Jr., who can fly around fighting enemies and discovering secrets in local multiplayer mode. Plus, Bowser will have to contend with the debut of Giga Cat Mario, Mario's fur-midable new form! Super Mario 3D World + Bowser's Fury will be available on Feb. 12.
Little Nightmares II – Return to a world of charming horror in Little Nightmares II, a suspense-adventure game in which you play as Mono, a young boy trapped in a world that has been distorted by the humming transmission of a distant tower. With Six, the girl in the yellow raincoat, as his guide, Mono sets out to discover the dark secrets of the Signal Tower. Their journey won't be easy; Mono and Six will face a host of new threats from the terrible residents of this world. Will you dare to face this collection of new, little nightmares?
UnderMine – Delve deep into the UnderMine and discover its secrets, one peasant at a time! UnderMine is an action-adventure roguelike that blends combat and dungeon crawling with RPG-like progression. Mine gold, die, upgrade yourself and try again! Discover hundreds of items, including relics, potions, blessings and curses that all combo and stack for a new experience every run. Challenge dangerous bosses and rescue helpful characters that provide new upgrades for your adventure. Decipher the cryptic messages of the UnderMine's residents and unfold the mystery at the heart of the dungeon.
Also New this Week:
Activities:
Pounce on This Kittenish Keepsake – A new My Nintendo reward is coming! Cat lovers and Mario fans alike will want to get their paws on the adorable Cat Mario keychain, which also features Cat Peach, Cat Toad and Cat Luigi on the strap. Redeem your My Nintendo Platinum points and meow your friends with this cat-tastic My Nintendo reward! Visit https://my.nintendo.com/ to learn more.
Brave Adventurers Discover Demo Points – Explore a new world as you fight for survival with your customized team of heroes in the BRAVELY DEFAULT II game, a strikingly beautiful RPG adventure. Adventurers who download the latest BRAVELY DEFAULT II game demo in Nintendo eShop on Nintendo Switch by Feb. 26 will now earn 100 My Nintendo Platinum Points … by default!
A Golden Opportunity – For a limited time, you can earn up to 600 My Nintendo Gold Points – twice the normal amount – when you purchase select digital games through Nintendo eShop, Nintendo.com (where available) or participating retailers.* Eligible games include Super Smash Bros. Ultimate and The Legend of Zelda: Breath of the Wild, among others! Get started by visiting https://www.nintendo.com/games/sales-and-deals/#double-gold-points.
Nintendo eShop sales:
Nintendo eShop on Nintendo Switch, Nintendo 3DS and Wii U