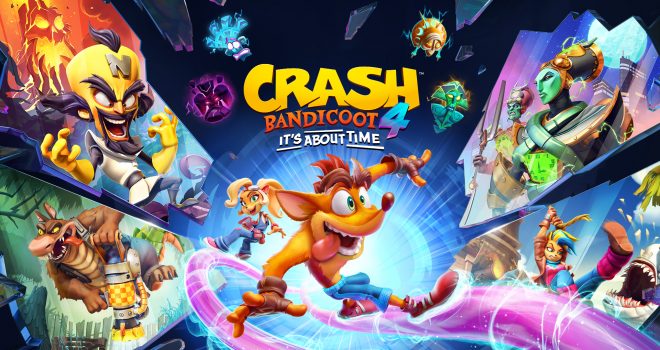 Crash Bandicoot 4: It's About Time – Neo Cortex and N. Tropy are back at it again and launching an all-out assault on not just this universe, but the entire multiverse! Crash and Coco are here to save the day by reuniting the four Quantum Masks and bending the rules of reality. New abilities? Check. More playable characters? Yep. Alternate dimensions? Obviously. Ridonkulous bosses? For sure. Same awesome sauce? You bet your sweet jorts. Wait, are they actually jorts? Not in this universe! Buy the digital version and receive the Totally Tubular skins for Crash and Coco upon completion of the second level.
Stubbs the Zombie in Rebel Without a Pulse – It's 1959 and the city of Punchbowl, Pennsylvania, is a beacon of progress and ideal living. Show the living that law and order are no match for a dead man on a mission. Your boyfriend's back, Maggie, and Punchbowl is gonna be in trouble. Eat brains, possess Punchbowl's population, build your zombie horde and bring civilization to its knees. Stubbs the Zombie in Rebel Without a Pulse will be available on March 16.
Cyanide & Happiness – Freakpocalypse – As Coop McCarthy, all you want to do is make the world a better place. The trouble is: Nobody likes you, school is hard and you can't even find a prom date. Why exactly is this game called Freakpocalypse? You'll find the answer by looking at, talking to and touching everything within the Cyanide & Happiness universe. Get ready for a world crammed full of adventure, puzzles and, of course, weirdness.
Also New this Week:
DLC:
Wield the "Power of the Aegis" in Super Smash Bros. Ultimate – The Cloud Sea of Alrest has never seen a battle like this before! Today, Pyra/Mythra from Xenoblade Chronicles 2 join Super Smash Bros. Ultimate as its newest playable DLC fighters. Prepare for a massive brawl when deploying these two formidable warriors. Challenger Pack 9 contains both Pyra/Mythra as playable fighters, a new stage based on the Cloud Sea of Alrest setting and a selection of sweeping music tracks from Xenoblade Chronicles 2.  Challenger Pack 9 is part of Fighters Pass Vol. 2, which can be purchased for $29.99 and also includes Sephiroth from the Final Fantasy series, Min Min from the ARMS game, Steve & Alex from Minecraft and two more yet-to-be announced fighters as they release. Challenger Pack 9 can also be purchased separately for $5.99.
Nintendo eShop sales:
Nintendo eShop on Nintendo Switch, Nintendo 3DS and Wii U