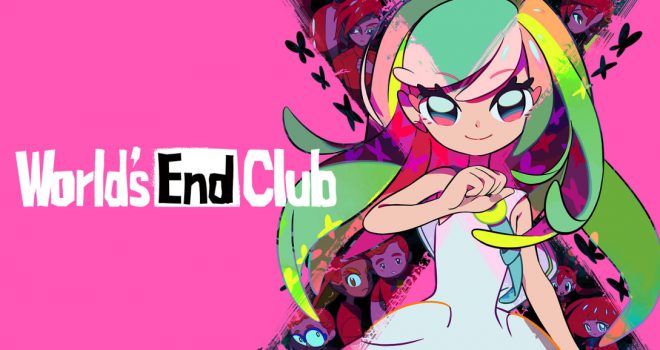 World's End Club – The "Go-Getters Club," a group of misfit students from all over Japan, find themselves trapped in a strange theme park during a class trip. In order to unravel the mystery of their circumstances and find an escape, they must take part in a "Game of Fate" that will test their bonds of friendship. With colorful visuals, charming characters, accessible gameplay and a compelling story, World's End Club will captivate new and experienced players alike. World's End Club will be available on May 28.
Hentai vs. Evil – Sometimes a little zombie killing and demon slaying is all you need, but a dash of naughty flavor to spice things up certainly can't hurt, right? In Hentai vs. Evil, demons have invaded the city, the suburbs and even the beach, turning the residents into flesh-eating zombies and throwing cute girls into cages. It's time to stop the madness! Rescue those girls, have them join your ranks as you take down the source of evil in a rain of bullets and look good doing it!
A Little Lily Princess – In British-controlled India, Sara Crewe was raised like a princess, always given the best of everything. Now that she is old enough, she must be sent away to boarding school in a foreign land, relying on her love of books and fairy tales to help her make friends. – Available May 28
Wonder Boy Asha in Monster World – The adventures of Asha and Pepeloglu begin! Asha, the warrior protagonist of the game, is involved in a serious incident that will affect the survival of her world. Our green-haired heroine doesn't have to save the world all alone, and sets off on an adventure with her cute flying friend, the blue Pepelogoo. Asha and the Pepelogoo have to work together to become the heroes the world needs them to be. The road ahead is long – will they be able to save their world? – Available May 28
Also New this Week:
Demos:
Experience the Past, Present and Future Simultaneously – In Cris Tales, a gorgeous indie love letter to classic JRPGs, you'll embark on a harrowing journey across the kingdoms, meeting and recruiting powerful allies to aid in the fight to stop the Time Empress. Master their abilities and Crisbell's unique Time Magic to overcome mighty foes. Peer into the past, act in the present and watch as your choices dynamically change the future. Download the demo and pre-order today before the game's launch on July 20!
Get a Taste of Defiance – Eager to try out some explosive Netherworld combat? Warm up those zombie knuckles by punching enemies in the Disgaea 6: Defiance of Destiny demo, available now in Nintendo eShop! Get a glimpse of the adventures, insanity and undying excitement that awaits. Disgaea 6: Defiance of Destiny launches on June 29 and is available for pre-order today.
Nintendo eShop sales:
Nintendo eShop on Nintendo Switch, Nintendo 3DS and Wii U