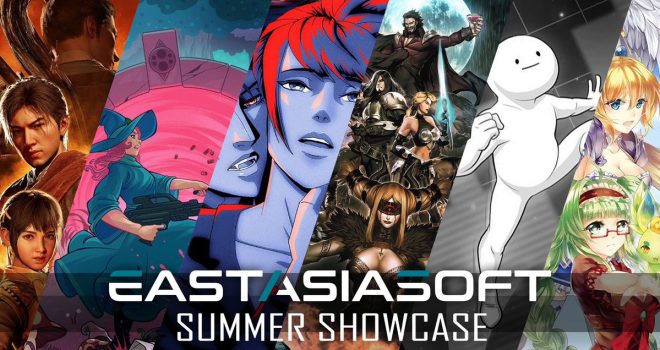 Eastasiasoft shared a new "Summer Showcase" video that covered a wide variety of titles scheduled for release in 2021 across Nintendo Switch, PS4, PS5, Xbox One and Xbox Series X|S.
Highlights of this new showcase include the reveal of Crimson Spires for console release, Omen of Sorrow on Xbox One, more news on Softstar partner titles Empire of Angels IV and Xuan Yuan Sword 7, the next game from eastasiasoft's ongoing partnership with Japanese developer ZOO Corporation and several other indie titles releasing digitally across multiple platforms.

Paradox Error
(June 9th – Switch / PS4 / Xbox One)
Paradox Error is a surreal take on the scrolling platformer format, combining minimalistic black-and-white presentation with self-aware, fourth wall breaking design. Glitches are intentionally integrated, allowing the player to cheat death, open new areas by triggering bugs or leap off of UI elements as if they're part of the stage. The title screen's main menu acts as a respawn hub, cursors may appear as enemies or helpful guides, graphical errors obscure parts of the screen and the player's character explodes into pixels upon death.
To survive, you'll have to quickly identify which portions of the screen can be reached, which pixels can be touched and which ones are simply background art. Adapt as gameplay suddenly shifts to a different perspective or requires interaction with a glitched object to proceed. At its core, Paradox Error is an ever-changing environmental puzzle where you're expected to die repeatedly and use those failures to inform further attempts, until the goal is eventually within reach. Decidedly hardcore in difficulty but fair enough to encourage repeated play, this is an exercise in trial-and-error, where determination becomes its own reward.
Pretty Girls Klondike Solitaire
(June 17th – Switch / PS4 / PS5)
The classic card game of solitaire, one that countless players know and have used to tease their brains and pass the time, gets an alluring twist as 10 Pretty Girls accompany and challenge you. Succeed in clearing rounds and you'll be rewarded with new outfits for your lovely companions. Once they're unlocked, you can also view them in the Dressing Room mode.
Using "Klondike" solitaire rules, this is a game of strategy and careful observation. Move cards between columns on the play field, alternating colors and ordering by number. Once they're arranged, cards can be stacked by suite, gradually clearing the field to win the game! This is a timeless classic that's never quite the same twice, giving you plenty of reason to come back for more quality time with the Pretty Girls!

Empire of Angels IV
(June 24th – Switch / PS4 / Xbox One)
For the first time since the series began in 1993, Empire of Angels arrives on console! As the latest entry in the storied tactical RPG franchise, this updated edition of Empire of Angels IV features lush 3D graphics, strategic turn-based combat and a huge cast of gorgeous female characters fully voiced in Mandarin, along with improved English sub-titles.
Offering a fresh perspective on the history of Asgard, Empire of Angels IV reintroduces its lore, characters and mechanics with no prior knowledge necessary to enjoy this brand new adventure. Deep fantasy-themed political intrigue and the looming terror of war are balanced by light-hearted character interactions, slice-of-life humor, alluring designs and the ability to shatter your all-female opponents' armor!
Join the Namtar Investigation Team as they patrol the Land of Asgard to maintain order against a plague that drives ordinary people to mindless violence. After Niya, captain of the Valkyrie Kingdom's legion, witnesses a shining orb fall from the sky, everything she understands about Asgard's history and fragile peace is called into question. Accompanied by trusted allies as well as new friends, Niya leads the team in a world-spanning mission to uncover the truth, all as the mysterious plague threatens to tear them apart.

Mina & Michi
(June 30th – Switch / PS4 / PS5 / Xbox One)
Join Mina and her best friend Michi as they travel through the seasons of a wonderfully colorful world, solving puzzles and challenging baddies along the way. Together, they'll uncover secrets, collect magical items and learn special abilities that allow them to reach exciting new places. Take control of Mina and Michi simultaneously, or play cooperatively with a friend!
Trigger Witch
(June 30th – Switch / PS4 / PS5 / Xbox One / Xbox Series X|S)
Recalling the visual style and intuitive gameplay of 16-bit action-adventure classics, Trigger Witch puts an ultra-violent spin on cute and colorful pixel art. With a compelling and original narrative, puzzling environments to explore, a dynamic soundtrack, twin-stick shooter mechanics and a vast array of enemies to blast into smithereens, this is a tale that will grip you from start to bloody finish.
From the creators of Reverie, Trigger Witch is a stylized 2D twin-stick action game set in an odd open world where magic is outdated and firearms are the new way of life. Players assume the role of Colette, a prospective graduate from the Stock, an academy for Witchcraft and Triggery. After a mysterious man invades her realm, events are set in motion that turn Colette's life upside-down, casting her as the sole heroine with enough firepower to restore peace.

Crimson Spires
(Summer 2021 – Switch / PS4 / PS5 / Xbox One)
Take the role of Sheriff Erika Wright as an investigation brings her to the small mining town of Bataille, where she is suddenly trapped by a ring of deadly, glowing towers encircling the community. Here she meets residents of a disarming variety, from extreme conspiracy theorists to wealthy vampires and a serial killer. Guide Erika's decisions as she forms uneasy alliances and finds love through partnership. Amidst the horrors facing Bataille, romance can blossom with the few people Erika might be able to trust. Each possible relationship reveals valuable secrets about the towers and their surrounding mystery.
Blending an eerie atmosphere with romance and supernatural mystery, Crimson Spires presents its otome-style narrative with an uncommon degree of freedom. Along its multiple story paths, the experience shifts between rich 2D character art and 3D exploration, allowing you to investigate building interiors and immersing you in the town of Bataille.
Additionally, this updated version of Crimson Spires includes New Game Plus content that unlocks after completing all other story routes, interweaving previous narrative threads and bringing Erika's tale to a climactic finish driven by player choice!
Other games featured in the presentation included:
Drunken Fist (July 2nd – Switch / PS4 / PS5 / Xbox One)
Macrotis: A Mother's Journey (July 2021 – Switch)
Xuan Yuan Sword 7 (Summer 2021 – PS4 / Xbox One)
Omen of Sorrow (2021 – Xbox One)