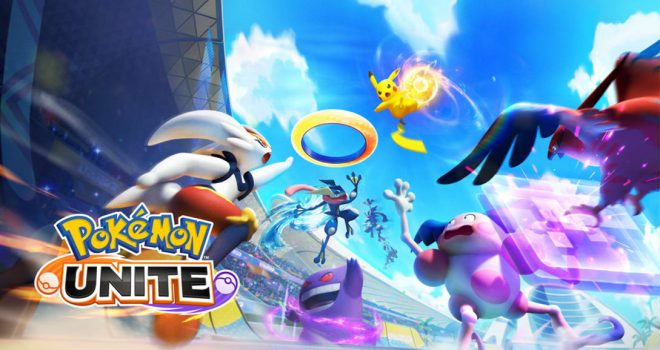 Pokémon UNITE – Get ready for the first Pokémon five-on-five strategic team battle game. Face off against other players in Unite battles, where you'll cooperate with teammates, defeat wild Pokémon, level up, evolve your Pokémon, and work to prevent the opposing team from scoring points! Pokémon UNITE is free-to-start, with optional in-game purchases available.
The Great Ace Attorney Chronicles – Immerse yourself in the dramatic yet charming world of evidence gathering and courtroom battles with this double-pack of adventures. Set in late 19th century Japan and England, each title features five murder-mystery episodes filled with all the drama, laughs, twists and "turnabouts" you've come to expect from the legally labyrinthine legacy of Ace Attorney. Join the rookie attorney Ryunosuke Naruhodo, ancestor of Phoenix Wright, as he attempts to uncover the secrets behind an international criminal conspiracy, while tackling a series of tricky trials along the way. The Great Ace Attorney Chronicles will be available on July 27.
Last Stop – Experience an adventure set in present-day London, where you play as three separate characters whose worlds collide in the midst of a supernatural crisis. The game tells three interconnected tales featuring three playable main characters: Donna, John and Meena. Walk in their shoes and discover where their individual stories lead.
NEO: The World Ends with You – A long-awaited new story in The World Ends with You series has arrived. The leader of the Wicked Twisters, Rindo, comes to the grim realization that his life is on the line when he is forced to compete in the so-called "Reapers' Game." There's no telling how this tale will unfold – but it's up to you to find out! Put your psychic prowess to the test as you duke it out on the stylishly animated streets of Shibuya. NEO: The World Ends with You will be available on July 27.
SAMURAI WARRIORS 5 – A new installment in this tactical action series takes you back to the historical period depicted in the first game of the SAMURAI WARRIORS franchise. With evolved visuals, additional WARRIORS officers and evolved actions, an even deeper drama set in the warring states is depicted. SAMURAI WARRIORS 5 focuses on the lives of officers Nobunaga Oda and Mitsuhide Akechi, boldly depicting the era spanning from the end of the Ōnin War to the Incident at Honnōji. Explore the beginning of a new series, in which the stories and characters from the traditional SAMURAI WARRIORS have been revamped. SAMURAI WARRIORS 5 will be available on July 27.
Also New this Week:
Demos:
Feeling Trapped? Need Somewhere To Vent? – Prepare your spaceship for departure, but beware! One or more random players among the Crew are planning your destruction. Sus out Impostors in the full version of the Among Us game for the Nintendo Switch system, available for Nintendo Switch Online members to try until July 27 at 11:59 p.m. PT. Among Us will also be available to purchase for 30% off until Aug. 1 at 11:59 p.m. PT. Best of luck pretending to do your tasks, "Crewmate."
Nintendo eShop sales:
Nintendo eShop on Nintendo Switch, Nintendo 3DS and Wii U