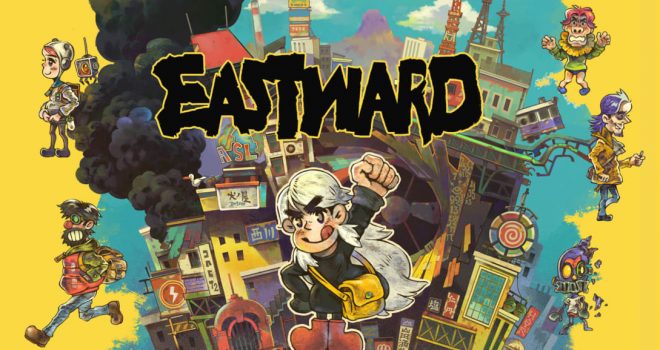 Eastward – Next stop … Eastward! Escape the tyrannical clutches of a subterranean society and join Eastward's unlikely duo on an exciting adventure to the land above. Discover beautiful yet bizarre settlements and make new friends as you travel across the world by rail. Combine John and Sam's skills to solve dungeon puzzles, take down unusual enemies and survive the deadly miasma. Can you uncover the truth behind Sam's mystic powers and bring back harmony to Eastward's ravaged lands?
SkateBIRD – Grind on bendy straws, kick-flip over staplers and carve killer lines through cardboard and sticky tape parks in SkateBIRD! You're a lonely lil' bird, and your Big Friend has hung up their board for good. Their job sucks, and lately, they're barely ever home to play with you. You're gonna fix all that with the power of being a chill little skateboarding bird. You may be tiny, but the more you skate, the more of a following you get, and the more the world of bird skating will open up. Birds will come check out your park, help you find more parks and together you'll (somehow) fix Big Friend's life! Above all else, skate birds try their best!
Ni no Kuni II: Revenant Kingdom PRINCE'S EDITION – Developed by LEVEL-5, Ni no Kuni II: Revenant Kingdom features enchanting character design from the legendary artist Yoshiyuki Momose and a stirring soundtrack composed by the world-famous Joe Hisaishi. Embark on this unforgettable adventure which blurs the line between animated feature film and video game. Join the young king Evan as he sets out on an epic quest to found a new kingdom and save his world. The PRINCE'S EDITION includes the full game and all DLC. Ni no Kuni II: Revenant Kingdom PRINCE'S EDITION will be available on Sept. 17.
TOEM – Set off on a delightful expedition and use your photographic eye to uncover the mysteries of the magical TOEM in this hand-drawn adventure game. Chat with quirky characters, solve their problems by snapping neat photos and make your way through a relaxing landscape! TOEM will be available on Sept. 17.
Also New this Week:
Nintendo eShop sales:
Nintendo eShop on Nintendo Switch, Nintendo 3DS and Wii U
j