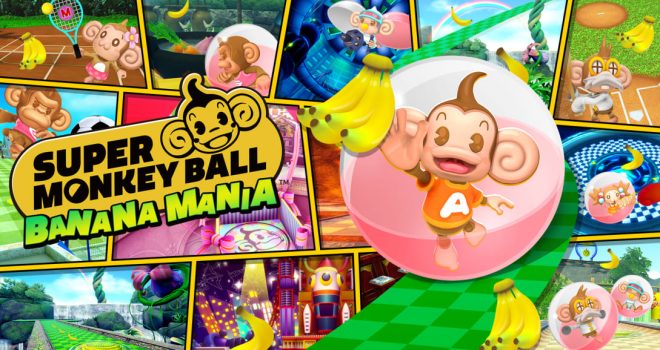 Super Monkey Ball Banana Mania – Go bananas with your favorite monkey gang in the ultimate Super Monkey Ball adventure! Roll through wondrous worlds with AiAi and friends as you race to stop monkey mad scientist Dr. Bad-Boon from blowing up Jungle Island! Join the all-star monkey team of AiAi, MeeMee, GonGon, Baby, YanYan and Doctor as you bounce, tilt and roll your way across hundreds of delightfully crafted levels and mazes. It's monkey business for the gang as you take down Dr. Bad-Boon and steal back your beloved bananas! Super Monkey Ball Banana Mania will be available on Oct. 5.
Astria Ascending – Experience an epic story with rewarding, turn-based combat and expansive customization rendered in glorious hand-drawn visuals. Explore the vast and beautiful world of Orcanon, visit five different cities populated by unique creatures and solve more than 20 dangerous dungeons. Immerse yourself in a fascinating narrative rife with betrayal, sacrifice and terrors. Fight more than 200 different monsters, collect and summon legendary beasts into the fight, and build up your power to wield legendary Cosmo Breaks.
HOT WHEELS UNLEASHED – Collect the best vehicles in the Hot Wheels universe, build spectacular tracks and dive into breathtaking races. The most iconic and sought-after Hot Wheels vehicles are waiting for you. Get ready to make them race at full speed! Stand out in the crowd by setting off your personality with the exclusive livery editor. Prove your skills by competing in awesome races and get ready for pure fun! Drift, charge the booster and launch yourself into spectacular loops. But be careful: If you're too slow gravity will do its job. Race side by side with your friends in split screen mode for two players, or face up to 12 opponents in online challenges. Create your own track by taking advantage of what surrounds you, and create amazing layouts inside and outside the race course.
UNSIGHTED – Traverse Arcadia your way. Save your friends. Time is ticking. Alma is an Automaton that awakens to a world in ruin after the war with the humans. Anima, the resource that gives Automatons sentience, is running out and turning Alma's friends into mindless killing machines, the UNSIGHTED. Alma must traverse the vast city of Arcadia before the life force of her friends and herself withers away. Who will you save, and who will you leave to turn UNSIGHTED?
FIFA 22 Nintendo Switch Legacy Edition – Powered by Football, EA SPORTS FIFA 22 Legacy Edition on Nintendo Switch features the latest kits, clubs and squads from some of top leagues around the world. It will also feature some of the world's most famous stadiums, including some new to FIFA 22. Gameplay features and modes will have parity with FIFA 21. FIFA 22 Nintendo Switch Legacy Edition will be available on Oct. 1.
Nickelodeon All-Star Brawl – Brawl it out as your favorite Nickelodeon characters in bombastic platform battles! With a power-packed cast of heroes from the Nickelodeon universe, face off with all-stars from SpongeBob SquarePants, Teenage Mutant Ninja Turtles, The Loud House, Danny Phantom, Aaahh!!! Real Monsters, The Wild Thornberrys, Hey Arnold!, Rugrats and more to determine ultimate animation dominance. With unique move sets and attacks inspired by their personalities, each character has an individual style of play enabling endless action for Nickelodeon's legion of fans. Select your favorite and then let the intense brawls begin with online and local multiplayer action. Nickelodeon All-Star Brawl will be available on Oct. 5.
Death's Gambit: Afterlife – A contract binds you to Death who seeks to eradicate immortality. Will you do his bidding and restore the natural order, or succumb to its power in this hardcore 2D action RPG? The promise of immortality lies at the heart of Siradon. As Death's right hand, challenge the undying guardians of the realm and endure the eternal struggle to purge their souls. Death's Gambit: Afterlife is the new and expanded edition of the original hardcore 2D RPG action-platformer. Master the precise combat, using a wide variety of weapons and abilities to confront the horrors that lurk within Siradon. Explore a mysterious and unforgiving world and uncover the true price of immortality.
Also New this Week:
Nintendo eShop sales:
Nintendo eShop on Nintendo Switch, Nintendo 3DS and Wii U