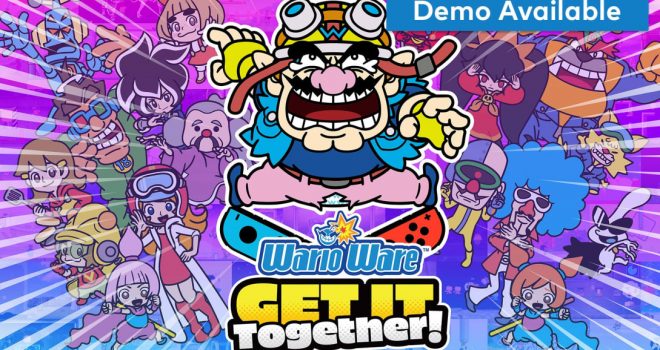 WarioWare: Get It Together! – Take on over 200 quick and quirky microgames – lightning-fast bite-sized games filled with frantic fun. When Wario's latest harebrained business scheme goes awry, he has to use his signature style (and smell) to fix it. How? By playing a twisted collection of microgames. For the first time, you can control Wario and other characters from WarioWare, Inc. inside their own chaotic games – solo or with friends! From assembling a robot to pulling out a statue's armpit hair, get ready for a comedic microgame mashup. WarioWare: Get It Together! will be available on Sept. 10.
NBA 2K22 – Play now in real NBA and WNBA environments against authentic teams and players, and put the entire basketball universe in your hands. Build your own dream team in MyTEAM with today's stars and yesterday's legends. Live out your own pro journey in MyCAREER and experience your personal rise to the NBA. Flex your management skills as a powerful Executive in MyGM and MyLEAGUE. Anyone, anywhere can hoop in NBA 2K22. NBA 2K22 will be available on Sept. 10.
Cruis'n Blast – The arcade hit Cruis'n Blast is speeding onto Nintendo Switch! Blast your way through nearly 30 over-the-top tracks. Grab the wheel of 23 custom rides, from licensed supercars to monster trucks and unicorns. Up to four players can race together, so pick your favorite vehicle and hit the road. Cruis'n Blast will be available on Sept. 14.
Ultra Age – Embark on a mission to save humankind from extinction. Ultra Age is a high-speed, sword-swinging action game set in the far future that follows the story of young warrior Age. Use your blades to cut through robotic and mutant foes, explore futuristic locales and unravel a vast conspiracy concerning the fate of the planet.
Also New this Week:
DLC:
A Walk in the Park With Friends Online – Enjoy the new online play update to PICO PARK when it launches later today! PICO PARK is a cooperative action puzzle game for two to eight players. The rules of the game are quite simple: Get all the keys and get to the goal and clear the level. But all 48 levels have special gimmicks designed specifically for multiplayer. As you move forward, you will need to think about new ways to cooperate with your friends.
Nintendo eShop sales:
Nintendo eShop on Nintendo Switch, Nintendo 3DS and Wii U