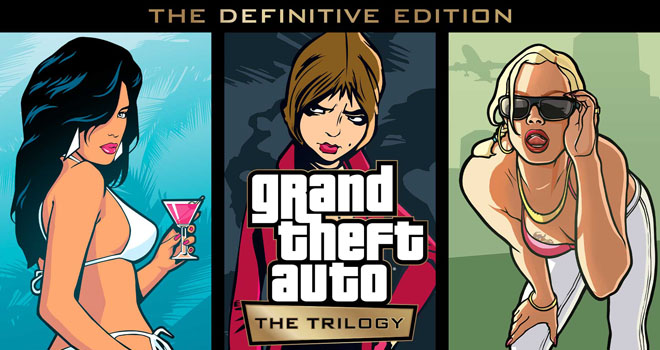 Grand Theft Auto: The Trilogy – The Definitive Edition – Three iconic cities. Three epic stories. Play the genre-defining classics of the original Grand Theft Auto Trilogy – Grand Theft Auto III, Grand Theft Auto: Vice City and Grand Theft Auto: San Andreas – updated for a new generation, now with across-the-board enhancements, including brilliant new lighting and environmental upgrades, high-resolution textures, increased draw distances, and Grand Theft Auto V-style controls and targeting. Grand Theft Auto: The Trilogy – The Definitive Edition brings these beloved worlds to life with new levels of detail – from the center of the criminal underworld to the pastel suits of the 1980s and the troubled state of San Andreas.
Shin Megami Tensei V – An unplanned detour leaves our protagonist buried and unconscious during his walk home. He awakens in a new Tokyo, a wasteland ravaged by apocalypse now called Da'at. But before bloodthirsty demons can claim his life, a savior emerges and they unite to become a mighty being neither human nor demon: a Nahobino. With newfound power, the protagonist ventures through Da'at, an enigmatic realm filled with mythical deities and demonic tyrants in constant conflict for survival. Searching for answers, the protagonist must forge his own path in a battle between light and dark to dictate the fate of the world in this new entry in the classic Japanese RPG series. Shin Megami Tensei V will be available on Nov. 12.
STAR WARS: Knights of the Old Republic – The legendary RPG classic is now on the Nintendo Switch system. Four thousand years before the Galactic Empire, hundreds of Jedi Knights have fallen in battle against the ruthless Sith and you are the last hope of the Jedi Order. Can you master the awesome power of the Force and save the Republic? Or will you fall to the lure of the dark side?
The Wild at Heart – Wield an ever-growing herd of quirky creatures to rebuild broken paths, battle perilous beasts and solve peculiar puzzles in a rich, interconnected world. Join two young runaways as they unravel the mysteries of a lost realm in this nostalgic storybook fantasy! The Wild at Heart will be available on Nov. 16.
Also New this Week:
Nintendo eShop sales:
Nintendo eShop on Nintendo Switch, Nintendo 3DS and Wii U