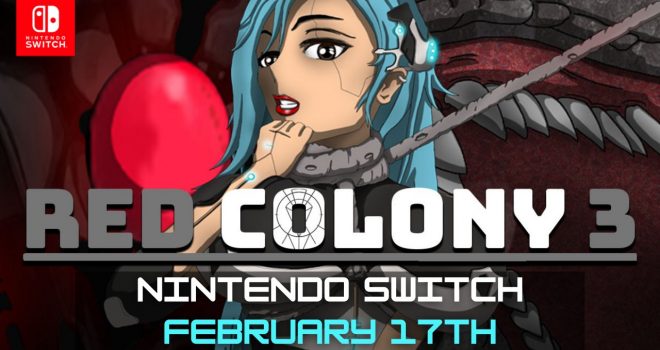 The final game in the Red Colony saga is coming to the Nintendo Switch on February 17th.
It's here, the final chapter in a series that has taken you across the solar system and had you battle it out against zombies, perverts, dinosaurs and now even ROBOTS!

Red Colony 3 picks up directly after the events of Red Colony 2. You play as Mina, a sexy big bosomed android, who is returning to her home planet of Titan with the precious dinosaur DNA, desired by her Queen.

Her mission complete, Mina looks forward to her long awaited reward- to be 'Turned'. Finally after years of servitude, she will gain her own free will, live the life she wants and at last learn what it means to love.

However, her dreams come to a screeching halt when a stowaway aboard her ship causes an uprising on Titan, which Mina is blamed for. Not only that – dinosaurs were not the only thing Mina brought back with her from Mars. . .
The Nintendo eshop page for the game will go live on February 10th. If you pre-order the game you'll get it for 10% off.