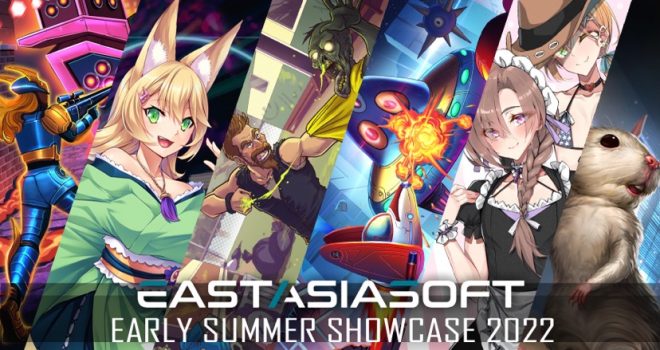 Today we premiered a "Early Summer Showcase 2022" video that covers 15 indie titles scheduled for release in 2022 across Nintendo Switch, PS4, PS5, Xbox One and Xbox X|S. This nearly 10-minute presentation continues the previous showcase format and once again consolidates news on multiple projects for convenient reference in the months ahead.
For The full list of games in the announcment check out the Eastasiasoft website.

Seven Pirates H
Nintendo Switch | May 12th
Join young pirate Parute Kairi and pervy boy monster Otton in an adventure to locate the lost treasures of the Monsupi Sea! Determined to make a legendary name for herself, Parute sets sail with a magic compass and the aid of newfound monster girl companions, but what starts as a raucous romp across uncharted islands gradually reveals something more sinister. Through their colorful encounters with rival pirates and locals in need, Parute and company learn some unsettling truths about the king who governs these waters, all leading to a confrontation that could tear their adorable crew apart!
Seven Pirates H is a traditional RPG focused on exploration and discovery with a gigantic dose of fanservice thrown in! As Parute, you'll command your party of monster girls in combat against naughty enemies, exploiting weaknesses to gain the upper hand in turn-based combat. Adventure across islands and ride Otton to reach secret areas, gather items and enhance your abilities as you level up! With the special "Booby Training" system, you can control the bust size of the all-female crew for stat boosts, bigger for increased power and defense or smaller for improved speed and agility!

Pretty Girls Speed
Nintendo Switch, PS4/PS5 | June 2
A new type of game joins the popular Pretty Girls lineup! In Pretty Girls Speed, you'll be pitted against a wide variety of dauntingly gorgeous challengers as you try to claim victory as quickly as possible. Play cards that sequentially to the ones on the table, or if you don't have any to use, you'll automatically have more dealt to you. Be the first to get rid of all your cards, and you win!
Pretty Girls Speed may be quick and intuitive, but it's also a challenge that requires both skill and a little luck! Try your hand at two different game modes, each with increasing difficulty. In Battle Mode, you'll select a character to play against and try to be first to win two out of three rounds. But be careful! With each opponent that you defeat, your next will be even stronger. In Challenge Mode, you'll have to conquer all 100 levels. Do you have what it takes to claim the "Speed" throne?

Seduction: A Monk's Fate
Nintendo Switch, PS4/PS5, Xbox One, Xbox Series X|S | Summer 2022
Side-scrolling action and classic adventure storytelling come together in a horror-themed tale about a monk who must enter a dark and surreal realm to uncover the truth of his monastery. What mysteries lie hidden, and can those he respects truly be trusted? Take control of this young man as he explores and converses, questions everything he knows and defies the advice of his elders.
Solve puzzles, search for clues and escape great danger as you navigate beautiful and gruesome hand-crafted environments. Temptation lies around every turn. You will need to learn to refuse and never give into seduction. Only then can you hope to save a young woman's soul from being sacrificed for a great summoning, a forbidden ritual that bloodies the history of the place you know as home.

Quintus and the Absent Truth
Nintendo Switch, PS4/PS5, Xbox One, Xbox Series X|S | Summer 2022
Alan Shaw's daughter is missing, and the only one capable of helping him locate her may be a small mouse named Quintus. Join this odd pairing on their search for answers, using the differences in their size as an advantage.
Quintus and the Absent Truth is a horror-themed adventure told in first-person perspective. Puzzles that Alan and Quintus encounter often require you to work out which character to use for the task at hand. Do you need Alan's height to reach buttons, switches and items that are out of Quintus' reach, or is a hole simply too tight for Alan to fit through? Only by working together can they discover the truth that they seek.