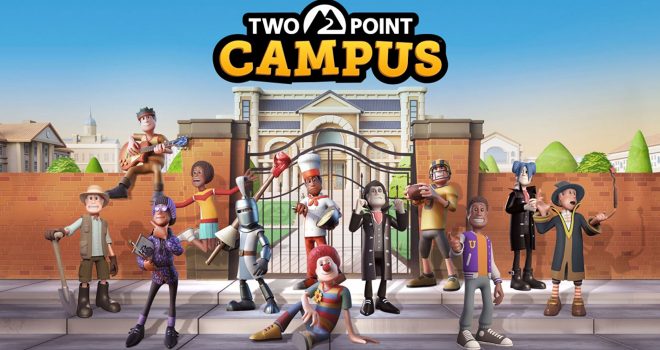 Cult of the Lamb – In Cult of the Lamb, prepare to start your own cult in a land of false prophets. Venture out into diverse and mysterious regions to build a loyal community of woodland worshippers. Spread your Word to become the one true cult! As you amass your flock, you'll collect and use resources to build new structures, perform dark rituals to appease the gods and give sermons to reinforce the faith of your cult. Explore a sprawling, randomly generated world, fight off hordes of enemies and defeat rival cult leaders in order to absorb their power to assert your cult's dominance.
Arcade Paradise – Welcome to Arcade Paradise, the '90s-themed retro arcade game and light-management sim combo! Take on the role of Ashley and manage the day-to-day tasks of running the family laundromat. Rebel against your father's wishes and create a games arcade to give the sleepy town of Grindstone something to really get excited about as you wash rags, invest the profits and build your very own arcade paradise! The more arcade cabinets you install, the more players will spend, with over 35 fully playable games to unlock! But remember, you don't have time to just stand around setting the highest scores … the toilet won't clean itself and there's trash to take out. Relive '90s gaming nostalgia on your journey from rags to arcade riches!
Two Point Campus – Build your university, your way, in Two Point Campus! It's time to spin academia on its head. Got a yearning for learning? Or just keen to build an educational masterpiece? Two Point Campus is jam-packed with new creative tools to help you build the university of your dreams. For the first time, build in the great outdoors as you develop your own delightfully educational campus environment, housing the top teaching facilities in the land. Whether you prefer building on simple foundations or placing every tree, you can build the university you want. Lay down pathways with new easy-to-use tools. Plant glorious collections of outdoor flora. Place benches, fountains, sculptures, hedgerows – even picket fences. The only limit is your imagination (and your in-game bank balance). Two Point Campus will be available on Aug. 16.
Blossom Tales II: The Minotaur Prince – Blossom Tales II: The Minotaur Prince is the new sequel in the Blossom Tales series. In this adventure, Grandpa's latest tale takes you on a journey through haunted forests, pirate shores and other mysterious lands across a vast open world! Charming towns, terrible enemies, tricky puzzles and powerful weapons await you. Enjoy a "story-within-a-story" as Grandpa narrates exciting moments throughout Lily's incredible adventure. Will you help Lily defeat the Minotaur King and save her brother? Blossom Tales II: The Minotaur Prince launches Aug. 16.
Also New this Week:
Nintendo eShop sales:
Nintendo eShop on Nintendo Switch, Nintendo 3DS and Wii U