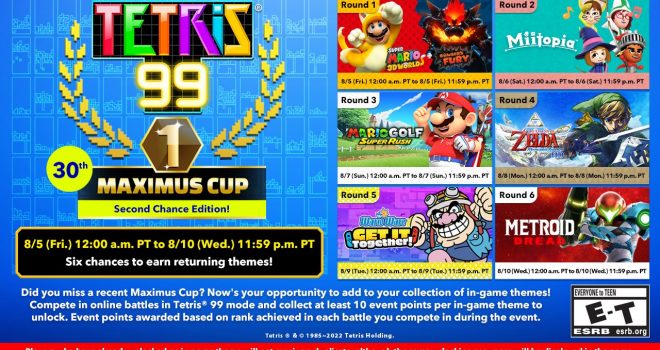 The 30th MAXIMUS CUP event had been announced. The next cup will be a second chance edition giving another chance to earn special themes that you may have missed out on previously. Earn past in-game themes from 10 points each.
The event runs from 12:00am PT on August 5th PT thru on 11:59pm PT on August 10th.
Super Mario 3D World + Bowsers Fury
Miitopia
Mario Golf: Super Rush
The Legend of Zelda: Skyward Sword HD
Wario Ware: Get It Together!
Metroid Dread
To participate, you'll need to be a Nintendo Switch Online member and play the Tetris 99 online mode during the event period. You'll earn event points based on your placement in each match.