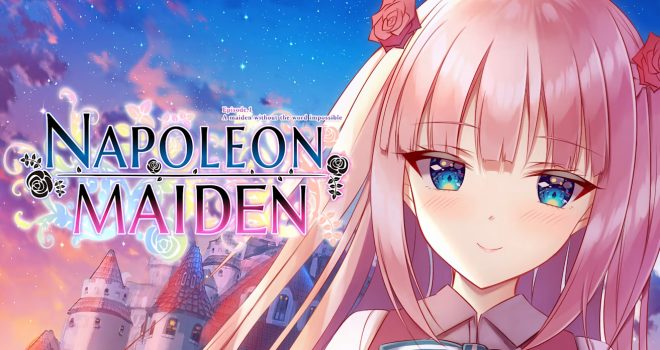 moesoft is bringing visual novel Napoleon Maiden Episode.1 A maiden without the word impossible to the Nintendo Switch on December 16th.
Character sprites are made using the E-mote animation system. When they breathe, wink, or speak, it all looks very realistic. Moreover, 2 theme songs sung by Haruka Shimotsuki and Akira Ouse are included! Each character's lines are fully dubbed in Japanese.

"Change your destiny. Impossible is a word to be found only in the dictionary of fools."

Shoichi Sakikawa was a normal, second-year high school student. Or, he was, until he woke up from a car accident only to find himself trapped in mid-revolution 19th century France.

What saved him from an onslaught of bullets was a girl armed with a sword. "I am Napoleon Bonaparte. And one day I shall be ruler of all France." Having been saved by this "Napoleon" in the form of a girl, Shoichi ends up accompanying her on her quest.

But in this world, not only is the past distorted, but the gods grant chosen girls the gift of greatness, who in turn fight one another using superhuman abilities known as "Apocalypse."

Will Shoichi be able to return to his own world? And what will become of his growing bond with Napoleon?

Opening Theme Song
「Divine Akashic」
Composer/Arranger/Lyrics/Singer
Akira Ouse

Ending Theme Song
「命の唄 (Song Of Life)」
Singer: Haruka Shimotsuki
Composer/Arranger: Takumaru
Lyrics: Daiai Aoi
Napoleon Maiden Episode.1 A maiden without the word impossible will be retail for $34.49 when it releases in the Nintendo eShop on December 16th. The game has a -13% discount during the pre-order period.