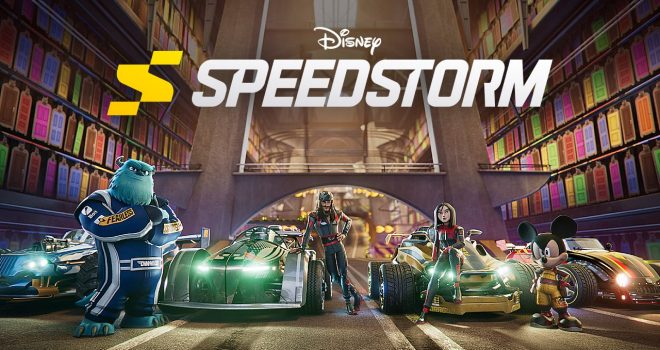 Disney Speedstorm – Get set for a high-octane Disney and Pixar combat racer! From the creators of the Asphalt series comes rip-roaring racing action with a legendary roster of characters and high-speed Disney and Pixar inspired racetracks. Disney Speedstorm is a free-to-play game with new seasons added regularly, bringing more exciting Disney and Pixar characters, circuits and karts. Plus, enjoy cross-platform play**, as well as split-screen* and online multiplayer modes. Disney Speedstorm races onto Nintendo Switch on April 18.
Minecraft Legends – The world of Minecraft meets action-strategy gameplay in Minecraft Legends. A beautiful land surrounded by rich nature is invaded by enemies from another dimension! Team up with allies and fight against this monstrous force threatening the world. What secrets await in this new, yet familiar universe? Minecraft Legends launches on the Nintendo Switch system on April 18.
The Mageseeker: A League of Legends Story – Developed by Digital Sun, creators of Moonlighter, The Mageseeker: A League of Legends Story is an action RPG that takes place in the League of Legends universe. In the kingdom of Demacia, the Mageseekers hold the power to oppress magic-using citizens in the name of public order by inducting and indoctrinating them, locking them away, or driving them into hiding. Play as Sylas, a spell-stealing mage who has just broken free of his unjust captivity at the Mageseekers' hands. Wielding the chains that once bound you, you must liberate your homeland from tyranny, one Mageseeker at a time. Unshackle the magic on April 18.
Mega Man Battle Network Legacy Collection – Ten Mega Man Battle Network games, originally released on the Game Boy Advance system, are coming to Nintendo Switch! Control MegaMan.EXE in grid-based combat and use Battle Chips to gain devastating abilities. This collection includes a gallery with over 1,000 illustrations and a music mode containing over 150 songs from across the series. Mega Man Battle Network Legacy Collection launches on Nintendo Switch April 14. The full collection will also be digitally available as separate volumes in Mega Man Battle Network Legacy Collection Vol. 1 and Mega Man Battle Network Legacy Collection Vol. 2 in Nintendo eShop.
Pokémon Stadium – Enter the stadium with the original 151 Pokémon in the Pokémon Stadium game, now part of the Nintendo 64 – Nintendo Switch Online library! Originally released on the Nintendo 64 system in 2000, this battle arena game features every Pokémon from the Pokémon Red Version, Pokémon Blue Version and Pokémon Yellow Version games alongside solo and multiplayer* modes designed to test your strategies as a Pokémon Trainer! Pokémon Stadium is now available for players with a Nintendo Switch Online + Expansion Pack.
Also New this Week:
Nintendo eShop sales:
Nintendo eShop on Nintendo Switch, Nintendo 3DS and Wii U