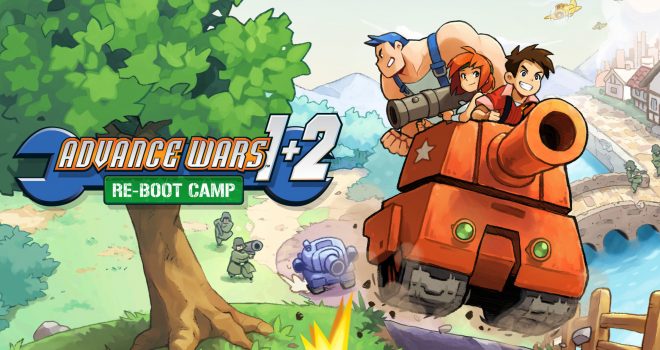 Advance Wars 1+2: Re-Boot Camp – Get ready to roll out with the Orange Star Nation! This from-the-ground-up remake of the Advance Wars and Advance Wars 2: Black Hole Rising games features all-new 3D graphics, online play*, fast-forward functionality and more! In both campaigns you'll play as several Commanding Officers with distinct special abilities and strategize against rivals in turn-based, tactical action across maps that span the land, sea and air. Plus, you can customize maps and share them with friends, or flex your strategic muscles in Versus Mode, where up to four players** can tussle locally or engage in one-on-one battles online exclusively with friends. The Advance Wars 1+2: Re-Boot Camp game will be available on April 21.
FINAL FANTASY I-VI Bundle – The games that inspired a generation come to life once more, in the ultimate 2D pixel remaster! The first six FINAL FANTASY games have been updated with beautiful new 2D pixel graphics designed to look great on HD displays, rearranged soundtracks overseen by original composer Nobuo Uematsu and improved gameplay features, including modernized user interface, auto-battle options and more. Originally released on PC and mobile in 2022, the games are available now on the Nintendo Switch system!
Afterimage – Afterimage is a hand-drawn 2D action adventure that emphasizes fast-paced combat with diversified character builds, non-linear levels and a gripping storyline set in the ruins of a fantasy world. Years after the cataclysm called "The Razing" nearly brought an end to human civilization, an amnesiac girl named Renee awakens among the ruins of the city's capital. To recover her lost memories, she embarks on a journey to rescue her mentor, inexplicably setting into motion a series of events that will determine the fate of the new world. Afterimage is available on April 25.
Tin Hearts – Behind every brilliant invention hides an incredible story. From members of the team that brought you Fable, comes Tin Hearts – an immersive puzzle adventure game wrapped in a powerful tale of love and compromise. Guide a troop of mischievous tin soldiers through a magical toy-filled world using a variety of whimsical and inventive contraptions to bounce, shoot and glide them to their goal. March through 40+ levels of time-bending, soldier-routing riddles, forge new paths for your toys to follow, and solve increasingly elaborate puzzles to unravel the emotional, thought-provoking story of Albert J. Butterworth, a genius inventor of Victorian times. Tin Hearts will be available today.
Five Nights at Freddy's: Security Breach – In the latest installment of the family-friendly horror games you'll play as Gregory, a young boy trapped overnight in Freddy Fazbear's Mega Pizzaplex. With the help of Freddy Fazbear himself, Gregory must survive the near-unstoppable hunt of reimagined Five Nights at Freddy's characters – as well as new horrific threats. Five Nights at Freddy's: Security Breach is available later today!
Shadows Over Loathing – Set in the 1920s within the West of Loathing universe, Shadows Over Loathing is a slapstick RPG full of silliness and stick figures. Venture through a sprawling black-and-white world filled with talking frogs, sentient math and eldritch horrors. There's also a ton of roles to play: From marching to the beat of your own nefarious schemes as a Jazz Agent to holding the curds of the cosmos in your hands as a Cheese Wizard. The digital version of Shadows Over Loathing launches on the Nintendo Switch system later today! Pre-orders for the physical edition of the game will be available at many retailers soon and will ship in the fall.
Teslagrad 2 and Teslagrad Remastered – Harness electromagnetic powers to solve physics-based puzzles and move seamlessly through Scandinavian-inspired environments. Yet, this land holds many dangers, as fearsome beasts stand in your way. Master the art of Teslamancy and defeat them to discover additional areas to explore. Plus, play a remastered version of the first Teslagrad game with enhanced visuals and 10 extra challenge levels in the Teslagrad Power Pack Edition featuring both games when it bolts onto the Nintendo Switch system later today! You can also purchase Teslagrad 2 and Teslagrad Remastered separately later today, too.
Also New this Week:
Nintendo eShop sales:
Nintendo eShop on Nintendo Switch, Nintendo 3DS and Wii U