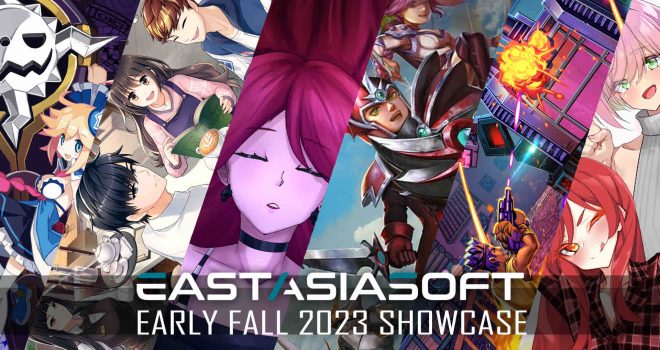 Publisher Eastasiasoft presented their Fall 2023 Showcase on Thursday, August 31st.
This more than 10-minute presentation continues the previous showcase format and once again consolidates news on multiple projects for convenient reference in the months ahead.
For The full list of games in the announcement check out the Eastasiasoft website.

The Bridge Curse: Road to Salvation
Nintendo Switch, PS4|PS5, Xbox One, Xbox Series X|S, PC | Out Now
Prepare yourself for an Asian survival horror tale told through a cinematic first-person perspective! In this atmospheric action-adventure, explore the events surrounding one of Taiwan's best-known supernatural incidents, a terrifying campus horror set in Tunghu University. When 6 college students challenge the urban legend of a lingering female ghost, they awaken a curse that no one knows how to break.
Use stealth to avoid the murderous ghost as you piece together the mystery and find a way off campus. The Bridge Curse: Road to Salvation offers intense action, puzzle elements, immersive exploration, film-quality storytelling and cutting-edge graphic design, all set in a modern world that grounds the psychological horror in unnerving realism, now complete with English voiceovers.

Sunny Café
Nintendo Switch, PS4|PS5, Xbox One, Xbox Series X|S | Fall 2023
On a summer afternoon, the thunder showers fall mercilessly and the bells in the café ring. A boy regains his senses, suddenly noticing a soaked girl standing at the door. Sunny Café is a tale of accidental encounters, acquaintances and eventual parting, a love text adventure game that uses Taiwanese coffee knowledge as a catalyst for this cycle of interactions and an analogy for life itself.
Join a cast of Taiwanese college students and enjoy a visual novel steeped in local culture, customs and ideals. Learn how to make the perfect cup of coffee by selecting beans, grinding, choosing a filter and brewing skillfully. Select objects in the café to pick up vital bits of additional knowledge. Explore multiple endings affected by your conversations with people in a comfy setting, and perhaps guide a budding romance to full bloom!

Dreamcutter
Nintendo Switch | Fall 2023
The Dreamcutter, a mysterious scythe with an ulterior motive, promises alluring rewards and a chance at escape. But what strange dangers and exotic encounters will you find inside your own mind? Dreamcutter is an intense side-scrolling action platformer that blends visual novel CG scenes with macabre themes and sassy character dialogue. Along with your friend Lucia, you'll take the role of Haley as the pair navigate the darkest parts of Haley's subconscious.
Use the Dream Combo to rack up points, collect coins to buy upgrades, reach higher platforms by sticking your scythe in walls, swing, grind, float and more! Plenty of seductive moments await in this dreamscape, but will you survive to remember them?

Rainbow Moon
Nintendo Switch | Early 2024
Cursed by his arch-rival, Baldren finds himself warped to Rainbow Moon. And to make things worse, Baldren isn't only stranded in an unknown place; he has also opened a dimensional gate out of which troops of monsters are crawling, turning this once peaceful planet into a real hell. There's only one thing for our brave hero to do: He has to seal the gate and warp himself back to his home planet.
Embark on an epic adventure that leads you through a beautiful, isometric, open world with detailed high-definition visuals. Rainbow Moon is a role-playing game with a strong emphasis on exploration, character development and turn-based battles. Six playable main characters with upgradeable weapons, armor and accessories; about 120 special skills and more than 20 challenging dungeons are awaiting you in a fascinating story that lasts over 40 hours.
Rainbow Moon for Nintendo Switch includes all the latest updates as well as a newly added gameplay features.