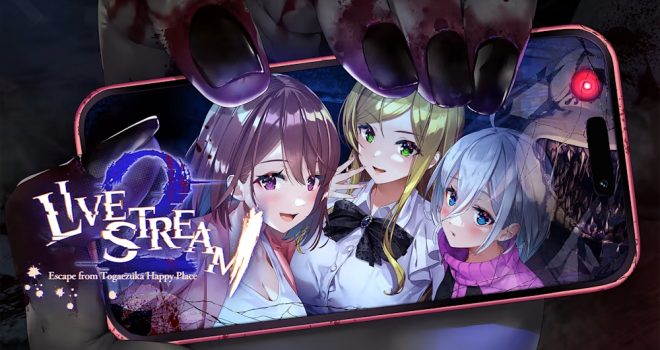 qureate is bringing a survival puzzle-platformer to the Nintendo Switch. Livestream 2: Escape from Togaezuka Happy Place is coming to the Switch on September 21st.
Can you escape the horror of being hunted down…?

It's a side-scrolling survival action-adventure game in which players must escape from a mysterious mascot in an abandoned shopping mall, using items and hints as clues. Depending on the player's choices, the fate of the girls will drastically change.

Will the three streamers be able to meet up again and manage to safely escape?

Himari, Aina, and Miyabi will start their searches from different locations.

By switching between the characters, you must find clues you need to escape. Will the three of them safely reunite and escape from the abandoned shopping mall without leaving anyone behind?

While exploring the abandoned mall, the three are attacked by a mysterious mascot! If you encounter the monkey mascot, run away immediately, hide, and escape its pursuit!

In order to escape from the abandoned shopping mall, you must acquire items and hints.
You must search all over the mall to find items and hints you need to escape. Furthermore, there are also various puzzles before the three. Use the items and hints you get to solve them!

・Himari Aitsuki (Voice:Lynn)
・Aina Hiiragi (Voice:Mano Ayumi)
・Miyabi Himemiya (Voice :Nozomi Yamamoto)

・Character Design:Waon Inui
・Scenario:Takayoshi Muto(Synthese)
・Producer:Yujiro Usuda
The sequel to the survival horror game "Livestream: Escape from Hotel Izanami" Livestream 2: Escape from Togaezuka Happy Place will be released in the Nintendo eShop on September 21st.