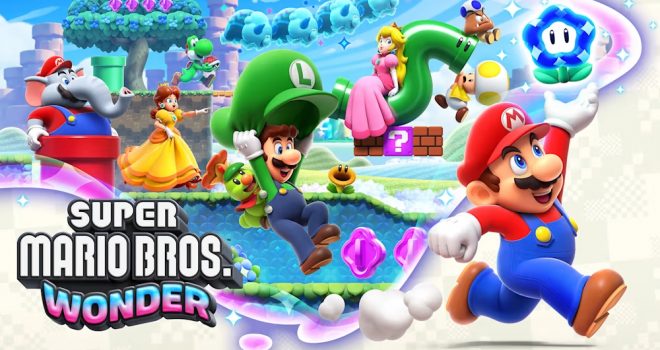 Super Mario Bros. Wonder – Jump into the unexpected with Mario! Classic Mario side-scrolling gameplay is turned on its head with the addition of Wonder Flowers. Witness pipes coming alive, float through outer space, wreak havoc as a giant Spike-Ball and see even more unexpected events called Wonder effects. Plus, choose from the largest cast of characters in a side-scrolling Mario game, including Mario, Luigi, Peach, Daisy and Toads. Grab surprising new power-ups like Elephant Fruit to use your trunk to trounce enemies and spray water on your adventure to save the Flower Kingdom from Bowser's Wonder grip. The Super Mario Bros. Wonder game is available on Oct. 20.
METAL GEAR SOLID: MASTER COLLECTION Vol.1 – Experience the thrilling cinematic story of the METAL GEAR series on the Nintendo Switch system! Infiltrate enemy fortresses and complete your mission to destroy the ultimate weapon, Metal Gear. This collection features METAL GEAR SOLID, METAL GEAR SOLID 2: Sons of Liberty and METAL GEAR SOLID 3: Snake Eater, along with the games that started the series – METAL GEAR and METAL GEAR 2: Solid Snake, the NES versions of METAL GEAR and Snake's Revenge, and plenty of bonus content. METAL GEAR SOLID: MASTER COLLECTION Vol.1 launches on Oct. 24. Pre-orders are available now in Nintendo eShop and in the My Nintendo Store on Nintendo.com. Metal Gear Solid, Metal Gear Solid 2: Sons of Liberty and Metal Gear Solid 3: Snake Eater will also be available for purchase individually in Nintendo eShop.
Gargoyles Remastered – Relive the epic journey of Goliath and the Gargoyles featuring enhanced visuals, animations and sound effects, all inspired by the acclaimed animated series. Gargoyles Remastered is an artfully crafted revival of the '90s classic 16-bit side-scrolling platform adventure. The world of Gargoyles comes to life with a level of detail that will thrill fans of the animated series and retro gaming enthusiasts alike. Experience classic gameplay that stays authentic to its predecessor while including new features such as achievements, gameplay rewind and more! Gargoyles Remastered is available now.
The Jackbox Party Pack 10 – Whether you're in your dorm room with roommates, surrounded by family during the holidays or joining a video call happy hour with coworkers, there's something for everyone. Use your phone or tablet to join! Games support anywhere from one to nine players and up to 10,000 audience members influencing the outcome of the game. Play a whole new pack of games from Tee K.O. 2, FixyText, Hypnotorious and more! Play The Jackbox Party Pack 10 today.
Mail Time – Mail Time is a relaxing, cottagecore adventure set in a peaceful forest far, far away. It's your first day on the job as a newly minted Mail Scout. Equipped with a mushroom hat, a pack full of letters and unbridled enthusiasm, it's time to deliver letters and packages across Grumblewood Grove. Their recipients eagerly await the sight of your mushroom hat, so don't tarry! Run, jump, glide and make your way across the forest to deliver parcels and joy to the cute critters that inhabit these woods. Start your deliveries today!
Also New this Week:
Nintendo eShop sales:
Nintendo eShop on Nintendo Switch, Nintendo 3DS and Wii U