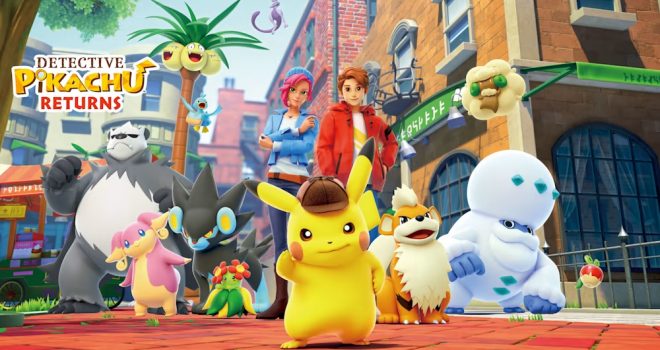 Detective Pikachu Returns – Unravel a series of mysteries across Ryme City with a tough-talking, coffee-loving Pikachu and his human partner, Tim Goodman. When a jewel theft occurs, the case sets this great detective duo down a path filled with mystery. Search for clues in Ryme City, where Pokémon and humans live and work side by side. Investigate and deduce as the detective duo, both together and individually, on a search for the truth in this cinematic adventure game! The Detective Pikachu Returns game is available on Oct. 6.
Borderlands 3 Ultimate Edition – The quintessential Borderlands 3 experience is now available on Nintendo Switch! Make some mayhem at home or on the go with the award-winning base game, plus all six content add-ons and the full collection of bonus cosmetic packs! Blast through multiple worlds as one of four Vault Hunters, each with deep skill trees, abilities and customization. Play solo or join a friend in two-player online co-op* to take on deadly enemies, score loads of loot and save your home from the most ruthless cult leaders in the galaxy. Borderlands 3 Ultimate Edition is available Oct 6.
Wargroove 2 – Take to the battlefield and use your wits to wage turn-based battles in a new adventure filled with unlikely friendships and unknown adversaries. Featuring signature pixel art and an interweaving story, Wargroove 2 brings together three campaigns, a new roguelike game mode and a fresh cast of Commanders, including the newly revealed faction of mousefolk, the Faahri. Wargroove 2 enters the fray on Nintendo Switch today.
FRONT MISSION 2: Remake – The second game in the main FRONT MISSION storyline is finally available outside of Japan for the first time! In this tactical RPG, you'll pilot weaponized machines called Wanzers and lead your battalion to victory. Gain the upper hand in battle by aiming for enemy parts to destroy and uncover the great storyline of this classic game. FRONT MISSION 2: Remake launches on Nintendo Switch today. The prequel, FRONT MISSION 1st: Remake, is also available now.
Also New this Week:
Nintendo eShop sales:
Nintendo eShop on Nintendo Switch, Nintendo 3DS and Wii U