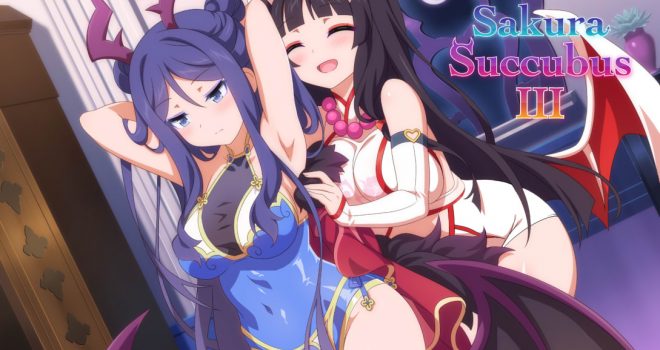 Sakura Succubus 3 is the latest entry in the series in Nintendo Switch and is another entertaining lewd time. The visual novel continues the story of Hiroki's expanding harem of succubus girls and brings some trouble in paradise.
Ogasawara Hiroki was a normal man until he, by chance, learns that many members of Japan's elite are actually succubi. And, what's more, there's something about his scent which makes them attracted to him.

Now an encounter with a woman from his past can change everything. This woman introduces herself as Yue, the succubus queen. She intends to whisk Hiroki away to the succubus realm to keep him for her own.

Trapped with Yue, Hiroki is faced with an ultimatum: will he succumb to her advances, or will he try to escape?
It came as no surprise that Hiroki's first girlfriend was the succubus queen. This revelation was teased in the second chapter and foreshadowed at in the first game.
It was an interesting dynamic with the location change to the succubus realm. With the queen declaring her ownership of Hiroki and forcing him to remain with her permanently, it was an interesting tonal shift. While Hiroki wasn't completely distraught (the queen is still a gorgeous succubus of course) he is forcibly cut off from the other girls, who are also forbidden from being with Hiroki.
It was interesting to see howthe different girls deal with their sudden disconnection from Hiroki. The power structure shifts and some of the girls handle it better than others.
I'm not sure I fully understand Hiroki's motivations though. While Hiroki is no doubt surprised to find out that his first girlfriend Yue is and was a succubus, it's weird that he seems only a little phased that he's been abducted into the succubus realm. Despite his thoughts and words that he wants to leave and return to Tokyo, he doesn't really push hard enough and make this desire more known.
As in previous games the art in Sakura Succubus 3 is top notch. The character art from the previous entries return and look as good as ever. Included are more brand new beautiful character galleries featuring all of the girls in the game.
No spoilers, but the story seems to wrap up by the end of the game with Hiroki and his harem of coming back to Tokyo. If I didn't know there was a fourth entry in the series this would have felt like a natural end to the story. While it didn't feel like a satisfying finish to the Sakura Succubus series, the story didn't end with a cliffhanger or tease leading into the next entry.
The first two Sakura Succubus visual novels set up the next entry in the series, but this entry wraps up like a movie. It comes to an end with a hint that the story could continue but could also be the end of the story.
I'll take the former though. I enjoyed Sakura Succubus 3 and can't wait for the next chapter.