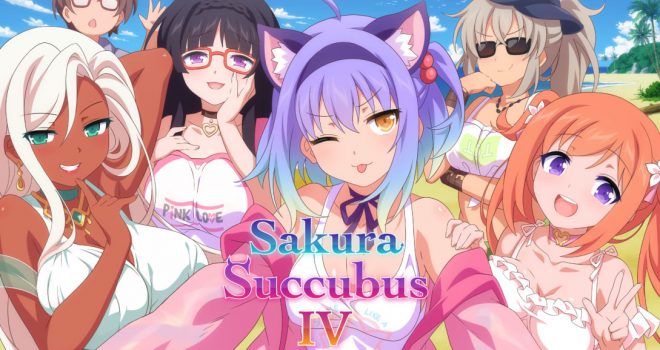 Though it felt like the series wrapped nicely at the end of the third entry, the girls are back in Sakura Succubus 4 and I'm glad they're back.
Ogasawara Hiroki was once an ordinary man, until numerous beautiful succubi fell for him in droves, and soon he obtained quite the harem! After narrowly escaping a lifetime of imprisonment in the succubus realm, Hiroki is ready to kick back and relax.

Idol succubus Ayu invites him on a vacation to her private beach house in Okinawa, and Hiroki is happy to oblige. The other succubi come along for the ride, and a week of summertime fun begins.

Join Hiroki as he breaks up vicious pillow fights, teaches social media queen Cosmos how to swim, and (begrudgingly) goes jogging with tennis athlete Hazel, all the while deepening his bonds with his adoring harem.
Sakura Succubus IV is an anime inspired visual novel and the forth (likely final) entry in the series. As with its predecessors, the novel is a bit of a lewd affair that has a surprising amount of heart.
While the title is definitely an ecchi story, the console releases don't have any of the full nudity of the original Steam release. As such there is more room for the story to take centre stage.
The plot of Sakura Succubus IV takes a page from a lot of anime series where the characters take a break from their normal lives to go to the beach. This gives the story more of an excuse to have the girls in bikinis.
No complaints here.
As with the previous games, Hiroki has to balance his time between the five succubi, all of whom vie for his attention. I don't want to give away any of the story beats, but it poses more of a challenge than he thought it would. He doesn't balance the attention paid to all of the girls equally and not everyone is happy about it.
The art is once again beautiful.
Many of the characters have fresh looks to them with the beach locale including a few different looks, swimsuits included. As well the character gallery images are masterfully done once again. Backgrounds are once again very well drawn. The artist does a great job of creating and designing compelling locations in and around the beach house.
Related: Gamuzumi lewd waifus (NSFW)
The solid soundtrack is mostly unchanged from the previous games, which is just fine as they're still great and familiar tracks.
I'm kind of sad that is the Sakura Succubus series is over. Sure the overall story arc of a harem of succubi is a little bit silly, but the story was fun, sexy, and at times touching. Sakura Succubus IV finishes the series on a high note and was just as much fun as the rest of the series.