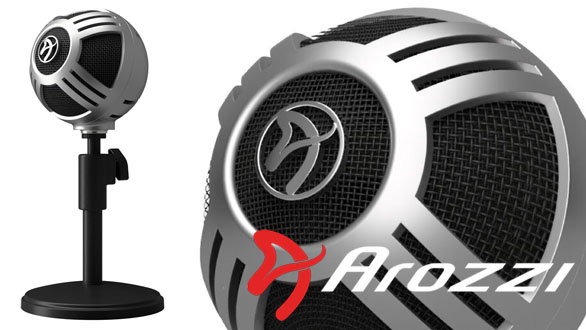 I'd actually written in to Arozzi earlier this year to ask about their chairs. They produce quality gaming chairs that you see many streamers using. The last thing I expected to hear was that they were getting into selling microphones. Of course I didn't know what to make of this but I was curious to give one a go.
The company kindly sent me along a Arozzi Sfera Pro. It's a decent sized microphone in a way similar to the shape of the Yeti Snowball. The mic part itself is quite nicely held in place by a plastic shell with the Arozzi logo in the middle. It looks nice. It's not over the top so it blends in nicely with many setups. Actually the base matches my speakers quite well.
I've read a couple complaints that the included USB cord is too long or doesn't fit well behind the mic, even with the stand clip you can nestle it into. I actually found quite the opposite. The cord length is quite nice so I can move it around or drape it over my desk where need be. Also the way the USB plug has a plastic 90′ angle bit on the end that plugs into the mic actually keeps the cord well organized.
My first time trying out the mic I noticed that the audio level was decently low. Like I'd need to be in close to have my audio picked up. I do a lot of voice recording for animation and videos so that wasn't a problem. I'm used to keeping that distance for quality sake anyway. Let alone, I'm sure some settings could be adjusted on my computer to increase the gain on the mic. So I was happy. The mic was alright and it seemed to fit in with the rest of my equipment on a casual level. Cool.
So tonight for my review I recorded some dialogue for our upcoming video game Soulless Wonder. After three takes with both the Arozzi Sfera Pro and my Blue Yeti desktop mic, I had enough content to confidently write this review.
One thing I noticed right off was that the Sfera actually had lower background noise at the same audio gain level as my Yeti. My computer fans were clearly picked up on the Yeti and it made for some annoying background sound that would be impossible to get rid of. So I decided to take it one step further and begin editing my audio from both sources.
With some simple reverb through Adobe Premiere Pro I was able to really start to hear a difference. The Yeti audio was surprisingly somewhat distorted it seemed. Maybe I'd recorded it too closely or such with not ideal gain settings, but I'm not sure. I tried to get my tests to be as equal as possible. It's just more difficult since the Yeti microphone actually has a gain level adjuster on the back of the mic, unlike the Sfera Pro which just has three settings for how to adjust the audio capture direction.
The Sfera actually came out ahead here. At first I thought the audio sounded simplistic, but then that was when I realized it was really just that much of a quality recording. There was no additional bass that wasn't there, no background noise humming through the mic, it was just my voice. Trying out the reverb settings on the Sfera Pro audio didn't have the same distortion I was getting on the Yeti. Don't get me wrong, it isn't an over the top difference but it is noticeable. Yes the distortion is from the Yeti topping out, but at similar levels I wasn't getting that in the same way from the Sfera Pro. Please keep in mind though that could just be from my test and not a fair comparison.
What is a solid comparison is that the Sfera Pro sounds more like a studio recording. There's very little bounce off the audio even though I'm in a small room. However the Yeti sounds more like I'm recording with an omni-directional mic, even though I wasn't using that setting on either microphone.
In short, the Sfera Pro is designed to be used by Gamers and Streamers. The audio I heard from recording with it was more close and personal than with my other microphone. While I probably won't switch it out for my main voice acting recording, the Sfera Pro is a quality microphone for exactly what it promises. Getting good audio for a stream or "lets play" video is always one of the first hurdles anyone looking to create content faces. With the Sfera Pro it would make that process easy. Yes you'd need to comfortably be near the mic or able to adjust the gain through some digital means, but the quality for that type of recording is there.
Let alone, if I was doing an indoor scene for one of my animations, I would use the Sfera Pro. That clear and isolated audio of my voice is perfect for editing in any way I'd need it modified for my scenes. Yes, the Yeti can add character to an outdoor scene, but it can also be a pain with how much audio it picks up that I don't want. We actually tend to record on a laptop just because the Yeti can pick up unwanted noise that the Sfera Pro doesn't seem to have had a problem with. It is there, but I had to increase the audio by 10db to even notice it on the Sfera Pro. That is of course keeping in mind that I could move the microphones even further from my desktop.
At a price that compares to the Blue Snowball, I'd recommend looking at the Sfera Pro as an option. It really is a quality product. The hefty stand is a huge plus as well since it keeps the mic steady. Even if you or your talent end up toying with the mic, it's sturdy so there's more of a chance you're not going to get too much unwanted accidental noise. Just how solid the stand is definitely is something to consider. For me, it's a very good thing. The mic itself is also situated on a stiff ball joint that not only makes adjustment easy, but keeps the mic in place.
The only thing I'd recommend for any of them is a basic pop filter. They are plain microphones and any sharp breaths into the mic will be picked up if you are recording directly into the mic at close range. Like I said, that's for any of these two microphones, and for a majority of these types of recording equipment in general. They're a relatively inexpensive accessory to have.
I like the Arozzi Sfera Pro! It's a quality product that I'm glad to have available to me and I'm sure I'll be using it in my productions.