Valhalla is as close to a perfect score as I've ever leaned. My holidays were essentially marching around England and doing various quests for my Dane and Saxon pals. Despite the rare glitches that can pop up, Valhalla is truly an amazing gaming experience. Let alone the gaming looking beautiful, and being a joy just to walk around in, it's also flat out fun. Somehow it takes what made Origins and Odyssey fun games, and perfects that style.
Right from the get go you're hit with just how beautiful and cinematic Valhalla is. After living through a pivotal moment of your characters youth, you're whisked away to the age you'll play the rest of the game at. Norway is a great beginning to the game, but there seems to always be something new waiting for you. England is introduced perfectly and you're just kind of given free rein to do as you please. Want to follow the main store? Sure! Feel like just pillaging the verdant forest villages around you? Go for it! The thing I liked most was there are tons of points of interest on your map, as usual for an Ubisoft game. But I didn't feel exhausted by it. I wanted to go wandering, and in fact that's where I probably sunk my first ten hours into the game.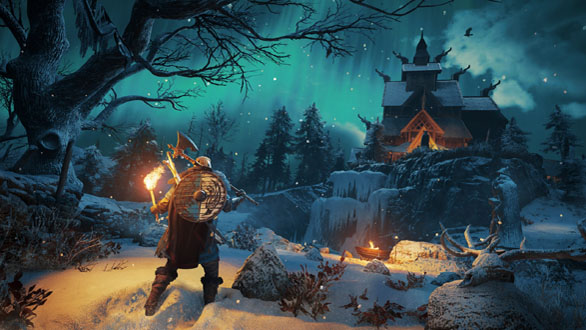 The content itself is some of the most solidly written I've seen in an Ubisoft title. It feels like you're participating in a Game of Thrones spinoff instead of just being another protagonist doing the Assassin's Creed stuff. While it can get wearing to get home, wrap up a story arc, and see yet again more major quests to do on the battle map, they're genuinely well done. Quite a few times I found myself just wanting to race along the main story, begrudgingly going off on another quest to gain more allies, and then realizing I was actually having fun. As it progresses, the stories just get better and better.
However, one spot that kept me from giving the game a perfect score was the overall end to the England story. It makes sense, and it works, but personally for me it made me want more. It's weird to say because an ending typical makes or breaks some games, but Valhalla really is about the journey though. That and the overall mystery of the game itself really is that solid that it's kept me playing. The whole story is clever, and despite the fact that I was mixed on the ending, it's the whole picture that makes Valhalla great. The fact that the story is that memorable really makes it clear just how awesome the game is.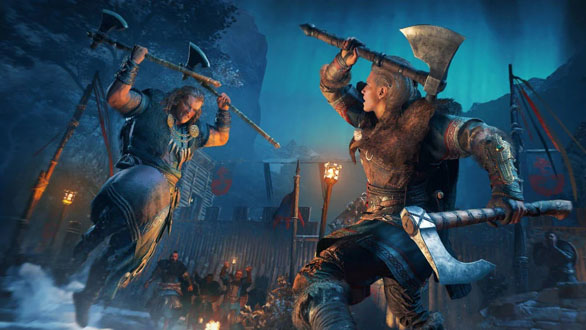 Combat I found to be improved over the other games. Despite the fact that you're now a battle ready Viking, you can still stealth around. However, the game isn't shy about letting you just rush in and destroy your foes. Really it plays a lot like Ubisoft's other recent release, Immortals. Again, it's solidly done. Near the end game I wished I could turn off the special kill cinematics, but that was just to save time. There may even be a way and I just didn't realize it. Otherwise I always found combat to be fun.
With the combat and leveling, Valhalla kept me daydreaming of Ubisoft just continuing with more RPGs like this. Really, that's in part what Immortals is too. It's not just another Assassin's Creed game. This is the culmination of everything Origins started in terms of gameplay. It's a great marriage of The Witcher and Assassin's Creed. Let alone how much fun sieges are. They play out their own stories as you help use battering rams to knock down gates, destroy ballista or burning oil to protect your warriors, and generally lead the charge. I have no doubt that I'll be diving back in for more quests, collectables, and upcoming DLC. Over the holidays you could even celebrate Yule in the game with a free event. This included a few quests and activities to participate in.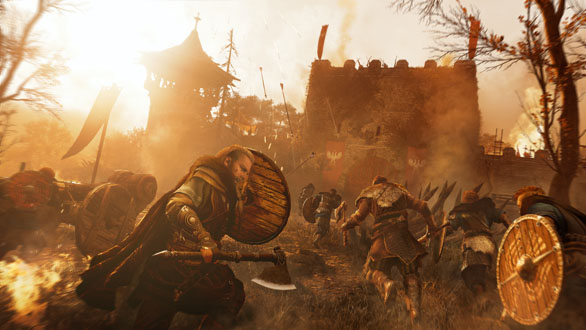 So much of the game just works well. Side quests are typically short stories that you can enjoy a bunch of in one sitting. Collectables bring back that classic Assassin's Creed feel and let you just wander and do your thing. The main story serves as a many hours long TV series that's just as enjoyable to watch as to play. Ubisoft was kind enough to give us a code for the game, but really, I've got more than my monies worth if I had bought it. In Canadian funds I wouldn't have even paid a dollar per hour, and I'm still going back in for more. That's what Valhalla feels like to me. An investment in an awesome game world that you'll be happy to own.
The modern day content isn't that heavy. It's tied into the story perfectly, and I loved how that storyline goes. As usual, you're giving a small sandbox to plod around in, and things to read to flesh out the current era story. It does continue the tale of Layla from the previous games in this saga. Even though I didn't complete Odyssey, I didn't feel lost. I'd put in enough time to overall know what was going on, but it didn't detract from the game being its own adventure.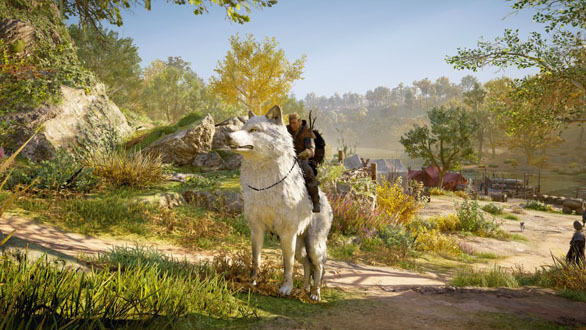 There's so much I could say to encourage you to play this game. Lots of it would be spoilers. So lets just say that there's tons of surprises here and if you enjoy medieval content, Assassins Creed games, The Witcher, and the like, you're going to have fun here. Valhalla is more than just a regular hack and slash romp. There's a story to be experienced here, a life to be lived, choices to be made. When all that's over, just taking a walk in the woods is worthwhile. I'd love it if Ubisoft added a first person mode so I could just wander and look at the beautiful game world.
Valhalla is on the verge of perfection. The rare glitched quest, or frustrating gameplay hiccup can be a letdown. But none of that stopped me from doing a good 80% or more of the game already. I love it! Very small troubles aside, this is Ubisoft at their best. If this is what the future has in store for them, I'm fully onboard and a complete fanboy now. Valhalla looked cool in previews and it wasn't even on my radar really. Not that it's saying TOO much all things considered, but I actually got bored of Cyberpunk and went back to Valhalla over the holidays. Eivor won me over and despite the major titles that came out in 2020, I'd say it's my game of the year!