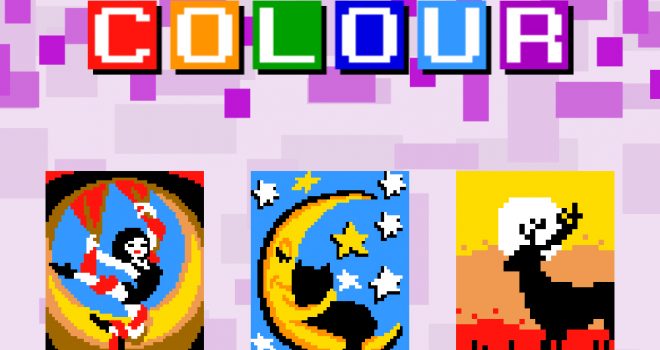 Block-a-Pix is the latest Picrossesque title from Lightwood Games. The game is something different and is fresh, unique, and has holding power.
The game has a similar feel to their previous title Link-a-Pix. But let's start at what a Picross is and go from there. Basically in a Picross game you have a grid. The goal of the puzzle is to use the numbered clues at the side and top to fill in the puzzle and create a pixel art picture. In Link-a-Pix the numbers are instead inside the grid and you must draw an unbroken line to connect two of the same number. This new game takes that challenge to the next level and gives you only one number to decipher where to fill in the puzzle.
In Block-a-Pix you reveal the picture by dividing the grid into smaller rectangular blocks. Each block must contain one clue number, which tells you the number of grid squares covered by that block and the colour the block will be painted. The space you fill in will either be a straight line vertically, horizontally, a square, or a rectangle.
The game is pretty forgiving and doesn't give you a time limit or have any sort of penalty. You can take your time to figure out the puzzle. While there isn't any sort of hint system in the game, you can select the (x) button at any time to reverse any errors you may have made. It's handy and there's no real reason not to if you're getting stuck.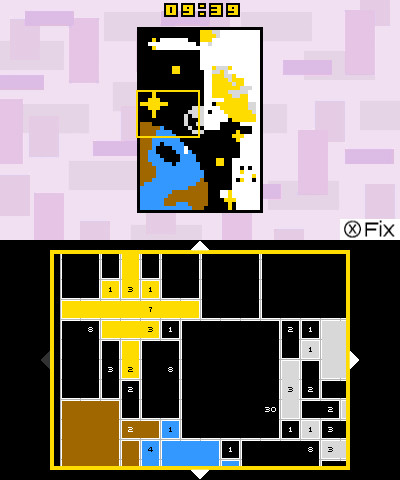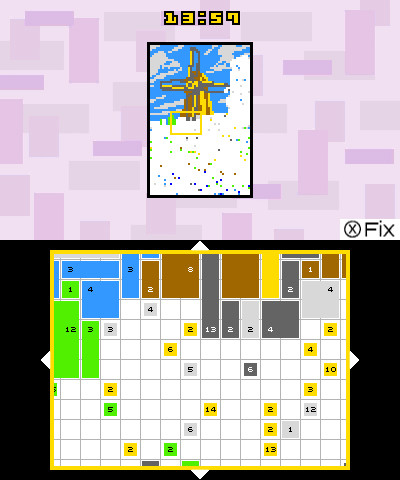 The game comes with just one chiptune song that plays through all of the puzzles. I can't put my finger on what the song is, but it's pretty uptempo and suited to the game. It can be switched off mid-level though if it's not your speed.
Block-a-Pix contains 120 exclusive puzzles, designed by Conceptis Ltd. Puzzles range in difficulty and size from small introductory pictures to huge scrollable grids with highly detailed pictures. Starter puzzles begin at 15×10 and nearly fit on the 3DS' top screen. But the real challenge comes from the massive 100×65 puzzles.
The game displays v1.00 on the bottom of the title screen, which suggests that the developers may intend on releasing updates or DLC with additional puzzles. While I still have a while to go before I exhause the included 120 puzzles it's cool to see that there may be more coming.
I really enjoyed this puzzle game. It's simple but relaxing to play. Block-a-Pix is perfect to pull out and play when you have a few minutes to spare, especially since you can save each puzzle in mid-solve and come back to it later.