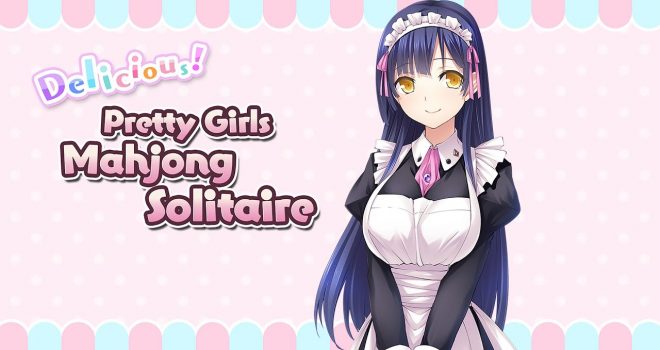 They say that you don't mess with success. Don't mess with a good thing. If it's not broke, don't fix it. I could think of a bunch more sayings but I don't need to because Zoo Corporation agrees. Delicious! Pretty Girls Mahjong Solitaire, localized and brought to North America by eastasiasoft, is exactly what you would expect in a Mahjong Solitaire game. It's a solid version of the classic game with just a little flair of pretty girls.
If you strip away the cute anime aesthetic (pun fully intended) the game is at its core traditional Mahjong Solitaire.
But, what is Mahjong Solitaire?
Mahjong solitaire is a single-player matching game that uses a set of mahjong tiles. The 144 tiles are arranged in a special four-layer pattern with their faces upwards. A tile is said to be open or exposed if it can be moved either left or right without disturbing other tiles. The goal is to match open pairs of identical tiles and remove them from the board, exposing the tiles under them for play. The game is finished when all pairs of tiles have been removed from the board or when there are no exposed pairs remaining.
The goal in Delicious! Pretty Girls Mahjong Solitaire in solving the puzzles is to unlock additional images of the cute anime girls. The new images, viewable in a gallery, are unlocked after completing three rounds of each stage.
The game comes in standard and easy mode. Standard mode has you racing against a ticking clock. You'll earn points that you can compare against an online leaderboard and you'll track up combo points if you're quick enough. Rub out of time and you're done.
Easy mode is a bit more relaxed and casual. Once you run out of possible moves in a round you lose the round, but before that happens you have three chances to shuffle the tiles. You can also highlight some possible moves as well if you're stuck.
Personally I prefer casual easy mode. Puzzling against the clouds reminds me of playing Perfection as a kid. I like the relaxing nature of Mahjong Solitaire and don't need the stress of speed puzzles.
Being based on a tabletop game, it can be hard sometimes to translate that into a video game. Especially one that is as tangible as Mahjong Solitaire. Luckily this game has a feature that I complain is lacking in games all the time – touch scream support.
This game is playable in docked or tabletop mode for sure. The on screen curser that you user works perfectly fine. But it feels so much better tapping the tiles to match and clear them.
In addition to the cute aesthetic of the anime girls the game also has fun and peppy music during the levels. There is also a winter theme that changes up the music.
Delicious! Pretty Girls Mahjong Solitaire is at its core a solid, challenging, and enjoyable game. It doesn't need an anime coat of paint, but it's always welcome in any game. Come for the waifus, stay for the solid game.