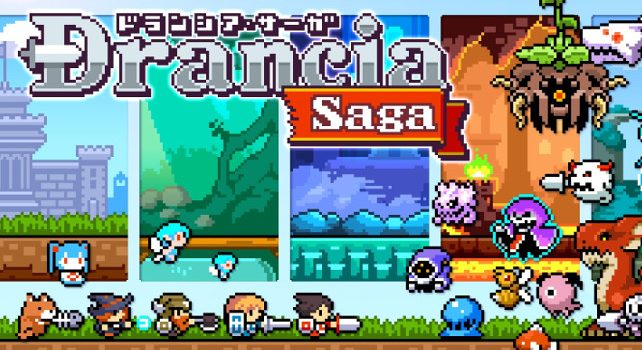 Drancia Saga is an 8-bit arcade like action game. It's a simple beat'em up game where you fight little monsters followed by the boss.
The game is very straight forward and pretty easy in terms of controls. Your character moves automatically and all you have to control are boosts and jumps.
Side scrolling levels are confined to a single screen where you move back and forth across the screen. Similar to other Skipmore game Fairune, all you have to do is collide into a monster to defeat it. Though if you are hit from behind you'll take damage. Monsters come onto the screen from all angles, including above and below the screen so you'll need to be aware.
There aren't any difficulty settings and the game is pretty forgiving. Defeating monsters will drop coins and collecting these coins will restore your HP a little bit. Chain multiple attacks to get more coins.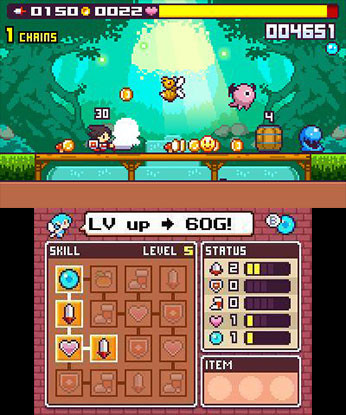 You can also upgrade your powers through a skill tree. Collect enough coins and when level up you can upgrade and make your character faster, stronger, heal more quickly, or unlock a special attack.
The upgrades available in the skills tree vary depending on the playable character selected, but the exact path on the skill tree is randomized.
In all there are a ton of playable characters in Drancia Saga, with over 50 available. These include characters from previous Circle releases (Skipmore and Flyhigh Works) as well as other indie titles like Gunman Clive. The games from which playable characters which can be unlocked also include Urban Trial Freestyle, 2 Fast 4 Gnomz, Petit Novel series – Harvest December, the Witch & Hero, Brunch Panic, the Fairune series, and The Legend of Dark Witch series.
There isn't really much of a lengthy story in Drancia Saga and not much of a goal besides getting to the end of the level. If you can get a handle on the rhythm of the bosses then the game isn't too difficult. And while the game overall is very short, it's actually in line with some of the old school arcade fighters.
Collecting playable characters gives Drancia Saga some longevity and appeal, but this has much more meaning if you've played some of the back catalogue of Circle's previous games. Otherwise the game doesn't have too much of replay value.