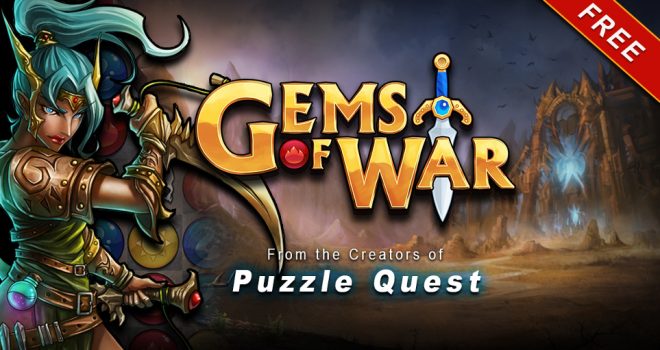 To tell you the truth I stumbled upon Gems of War by accident while browsing the Nintendo eShop. Looking down the list of recent releases on the system I spotted this title with the with the bright shiny cost of $0.00. Gems of War is a free-to-play game for the Nintendo Switch that has micro-transactions. Like many games of the ilk you can play the game as much as you want but can get a little more out of it by spending some real world currency. And while I didn't dive into any cash transactions just yet the game certainly doesn't need it and is very addicting.
The game is a puzzle RPG strategy mashup from the creators of Puzzle Quest. If you've read my reviews before then that name is likely familiar as I reviewed one of their titles before (Magic the Gathering – Puzzle Quest), though I had no idea they were related when I downloaded Gems of War.
In Gems of War you use the simple swap gems mechanic to line up three or more of a variety of coloured gems. However, rather than just racking up points you'll collect mana from these gems which powers up a party of three creatures plus your hero to unleash a series of combos to try and defeat the creatures of your opponent. There are also skull "gems" on the board which can be used to unleash direct attacks when you line up three or more of them.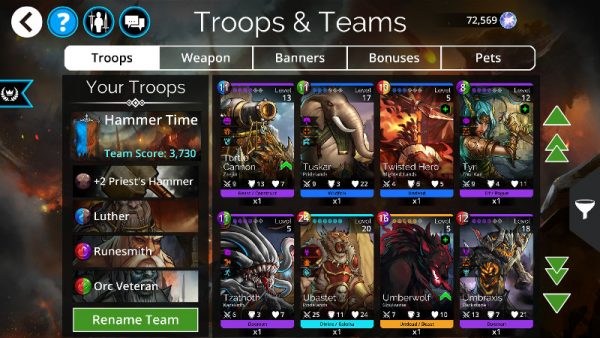 To collect gems you need to match at least three consecutive gems by swapping two gems on the board. You can also match more than three which gives you either an extra turn if you match four or more gems. There's also a random chance that you'll get a mana boost which will double the mana you collect.
As you play you can unlock different keys which you can use to unlock boosters for random items or card creatures. Each of these creatures have different special abilities which you can use when they charge up by matching enough gems of a specific colour. These abilities range from attacks, to boosts of your own side. They can really turn the tide in battles.
While the basic match three gameplay is very simple the depth of the game comes from choosing complimentary sets of creatures to equip on your side.
There are a ton of different abilities for the various creatures, some of which compliment each other. For example one of your creature could have the ability "webs" an opponent, which causes negative status ailments for your opponent's creature. But if you have a complimentary craeture on your side that gets a bonus for using an ability on a "webbed" creature, you can create some hefty combos if the gems fall your way.
Another element in the balancing act for the creatures is that there are six different colours of mana which can be collected. Your creatures will be either solely one colour or a combination of two. If you choose multiple creatures that share a colour the creature higher up in your party will get the mana from gems first. Choosing multi-colour creatures gives you twice the opportunity to collect mana, but also limits your other creature options if you don't want any crossover with colours.
All of the creatures, of which ther are more than 300 to unlcok, can also be leveled up and boosted by spending loot that you obtain through clearing opponents.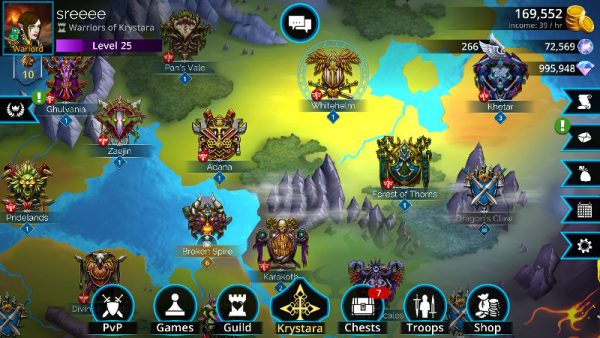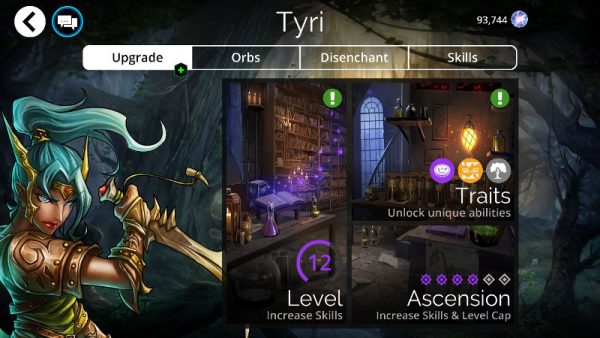 Gems of War has tons of maps and quests to complete, along with event challenges to keep you busy – and challenged for a while. The game also has a PVP element as well.
The only thing that disappointed me with Gems of War is that the Nintendo Switch and mobile versions of the game can't be linked together. Previously I played Lightseekers and was pleased that I can go back and forth between the Switch and mobile game and continue my progress. This isn't possible with Gems of War, which is unfortunate.
Gems of War is great for pick up and put down gaming, as long as you can put it down. The game features the addictive match-three gameplay that keeps you saying "just one more time" after a match. If you like the genre and enjoy the strategy of light deck building, you should definitely check it out. Just pick your platform preference first.