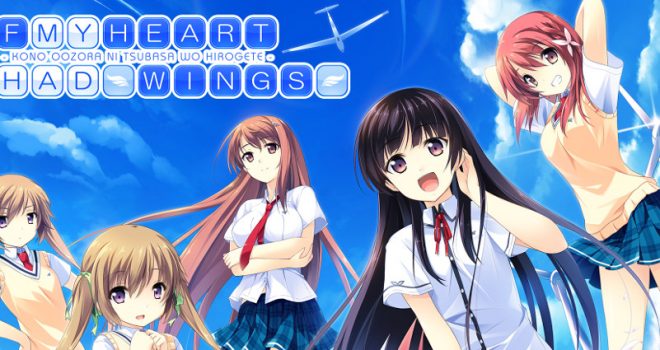 I'll admit it I'm not a big reader. Let's be honest, reading takes quite a while. It does for me at least. No matter how many times I try to sit myself down and pick up a book I find myself too easily distracted with the other things that I need to be (or just could be) doing. But reading is something that I've wanted to get more into and I figured that this was a good way to bridge that gap between playing video games and reading.
Besides, reading is a big part of a lot of games, role playing games for example. And sometimes the story can be pretty engrossing in these games, so much so that at times actually playing the game can be a pesky side effect. I just want to passively enjoy the story sometimes.
Introduce the visual novel.
If My Heart Had Wings is a visual novel developed by PULLTOP and relesed by MoeNovel. With the art of an anime it very much feels like I'm reading an anime.
Here's the synopsis of the story.
Set in the breezy, laid back town of Kazegaura, watch as these students come of age in their unique environment and experience the ups and downs in the journey towards their dream.

They story follows Aoi Minase who returns with shattered dreams to his wind-swept hometown of Kazegaura. There, atop a hill lined with wind turbines, he encounters a wheelchair-bound girl, Kotori Habane, and a beautiful, white glider soaring through the sky. Together, they decide to revive their school's defunct Soaring Club in order to ride the "Morning Glory", a phantom cloud carried on the wind that blows across Kazegaura.

This is a tale of youth, a tale of boys and girls who loved the sky.
While all of the text in If My Heart Had Wings are in English (Japense and Chinese are also supported) the game is fully voiced in Japanese. At first I was a little disappointed by this as I had hoped that it was also voiced in English so I could cheat and treat the game like an audio book. But only having Japanese for the audio language option was actually a good things.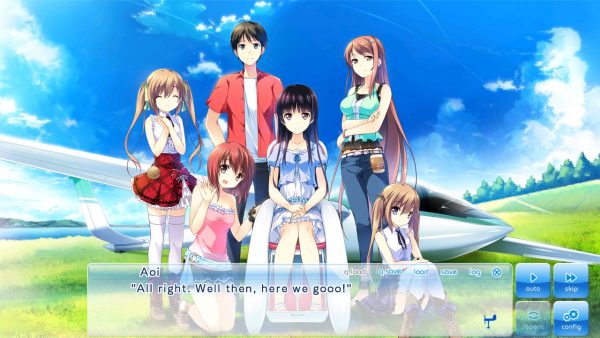 The whole point of the visual novel experience is that I'm actually reading the story. It's supposed to be a novel after all. However the addition of the Japanese audio really brought me into the story. I'm no stranger to anime and very often will watch with the original Japanese audio with English subtitles if I'm given the chance. Reading If My Heart Had Wings somewhat felt like I was watching an anime except that there were mostly still images on the screen and I had to use my imagination to visualize what was happening based on the narration.
The story is told from the perspective of the protagonist Aoi. While all of the other characters in the story are fully voiced, Aoi is not at all. The reader is forced to use their own internal voice when speaking the part of Aoi or when he is describing what is happening. I think this was actually a better choice as it does a lot of good to bring the reader into the story.
The audio of the 'game' is pretty good as well. The soundtrack is subtle enough that it doesn't distract from the enjoyment of the story and changes depending on the situation or environment. The game actually has a really beautiful soundtrack and some of the music is very relaxing to listen to.
The developers also made good use of sound effects in times for added effect.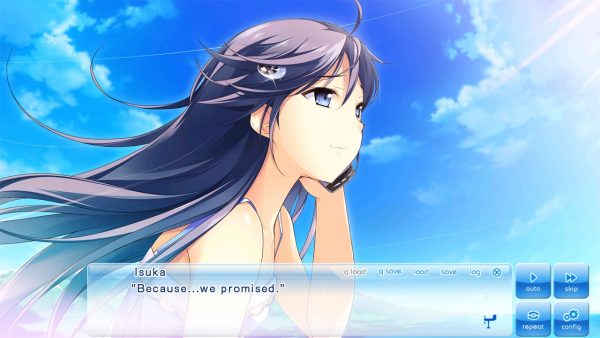 With If My Heart Had Wings coming to the Nintendo Switch there needed to be a quick save feature with the pick up and play portability of the system. With that in mind there is a quick save in the game with dozens of spots to save. In case there are multiple people reading the story who may be at different points.
One thing that the game doesn't have support for, which is a gripe I have with a lot of games, is touch screen support. The game had been released on mobile devices before coming to Nintendo Switch and there are big buttons on the screen, but you can't tap the screen to use any of them. It would also have been intuitive to be able to tap the screen to advance the story and I often found myself trying just that when my Switch was laying on the desktop in front of me. It's a disappointing loss considering this was undoubtedly part of the mobile release.
The characters in If My Heart Had Wings are charming and I'm enjoying the story so far. I can't wait to see where they go and if they are successful. If you enjoy anime and also like to read them this might be right up your alley.