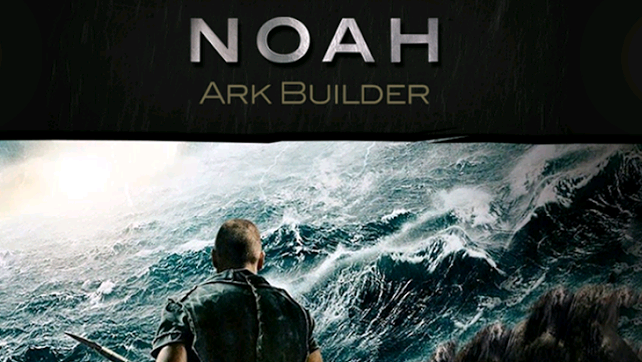 NOAH: Ark Builder for iOS and Android isn't as epic as the movie it's based on and is a little underwhelming, but for a sliding tile match game it sits just above water.
NOAH: Ark Builder is a game that you have seen a million times already, if you've played Bejeweled, Candy Crush Saga or any of the other numerous titles out there. The you shift tiles on the board to match up three or more, thus eliminating them. There isn't anything really new here to make this game stand out from the rest, though there are a few nice little treats built into the game.
The game has two modes: story mode and endless. Each segment of story mode has five missions, with each one of them to make a specific number of matches with certain coloured tiles. It's not too difficult in the early going, though as the levels progress there are a few elements which ramp up the difficulty.
At a certain point there are "flood water" tiles which are added into the mix. While the normal idea is to make matches, doing so with these tiles will lose you a few turns. Oh, did I mention that there are a limited number of turns? There are. You'll lose two turns if you happen to clear these tiles. Whereas making combos in most games is a good thing, you can be destroyed by combos if you run into a chain of combos where these tiles are involved.
Luckily if you manage to clear your quota of coloured tiles you will get a few extra turns added back on. Eliminating coloured tiles with a lower quota can help you out in the long run.
However, another element of the game makes the game frustratingly challenging later on. The bottom row of the field will fall off after a certain amount of time, which eliminates one of your potential matches. That's not that bad in the long run, however this DOES take a turn away from you. So the turns you have left to work with really start to bleed away.
Overall I don't mind this game, and it's neat that after you advance in the story mode a little bit you are treated to actual clips from the movie. There is actually great orchestral music from the film included as the soundtrack as well, but the game gets a bit frustrating with the easily lost moves during levels. Winning levels ends up depending more on luck than skill. I ended up easily defeating one level, which I had already tried a few dozen times, when I managed to get a lenghty combo after just a few seconds in.
The game could use a little more balance, but what can I say? Free is free. This game was only made as a promotional tool for the film NOAH being released on Blu-Ray and DVD. Want proof? When you start the game you are greeted with a popup reminding you that the film is available for sale.
Download the all new Noah Ark Builder Match-3 Game!
Survive the flood by building Noah's Ark in this exciting match-3 game! Gather your supplies to complete each level and advance to the next stage. Construct the Ark and see previews from the film as you proceed in the game. Can you make it before the storm comes?

FEATURES:

Story mode includes 25 challenging levels across 5 stages
Match 3 to gather supplies, build the ark and survive the flood
Complete objectives by gathering specific items and advance to the next level
Start each stage with a clip from the film
In-game imagery shows your progress through each level and stage
Endless mode will challenge you to keep up with your own top score