Take free mobile games for what they're worth. They say nothing in life is free and we all know by now that the free mobile gaming market isn't based on providing the masses free games to play. No, these games are shuttled out to mobile phones everywhere to make money. For some games the paying money aspect is a subtle thing. You have to wait for a meter to charge, gems to refill, or time to pass for a timed event to be complete. Or, if you don't want to wait for that time to pass, you can spend some in-game currency to speed time along and have it finished now. Also this pretend money isn't accrued very quickly, but you can nab some now with just a couple of real world dollars.
This is how the games make their money. And I'm fine with that. While I have never done so on a mobile game on my phone, I have shelled out a few dollars for the free-to-start game Nintendo Badge Arcade on my Nintendo 3DS. I can see the desire to spend money in a free game. But what I am not fine with is a game that makes spending money an almost necessity.
Shuffle Cats from King games does almost that.
I say almost because as I play through the game I can feel the time coming in the near future where it will be next to impossible to play the game for any length of time without spending money.
Shuffle Cats, from the makers of the goldmine Candy Crush, is a simple little card game with an animated flare. The game is at it's core just plain old' Rummy. If you don't know how to play Rummy you can click this link for the Wikipedia entry on the game. It's a very old and well known card game where you need to play matching cards of three or more or runs of cards in the same suit.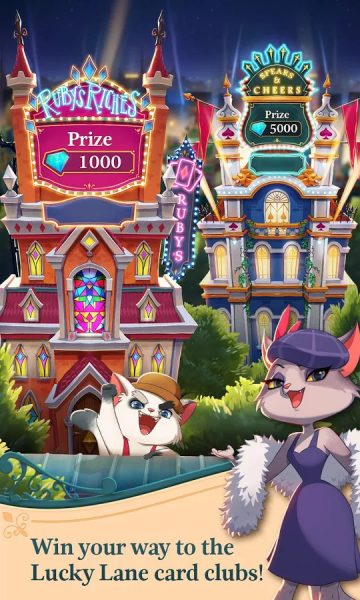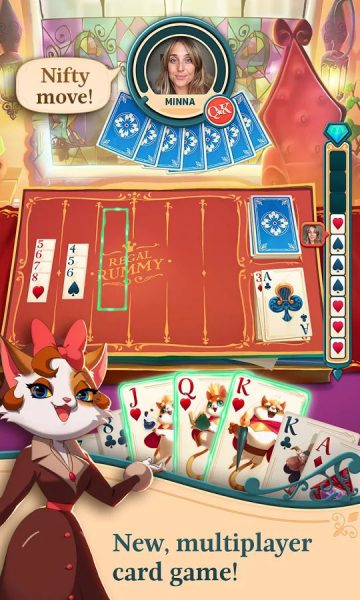 In each hand (or match) you are paired up with a real world opponent through the games servers. The goal of each match is to rack up 10 gems, which you do by matching or playing ten cards total. Once you do this you win the hand. That's the long and short of it.
There are a few cute power-ups to go with the game as well, which you can puuurchase once you have leveled up to set levels. These power-ups come in the form of badges, which you can equip. One such gives you double gems when you score points with Queens and Kings, another one freezes an opponent's card so that they are unable to play nor discard it. Another power-up lets you play with an extra card in your hand while another lets you zap away points from your opponent. The badges do add a little spice to an otherwise straight forward game.
After the first series of levels which introduce you to the game you're taken to Lucky Lane where the high rollers play. This is where you'll spend the majority of your time. And I do mean spend. Each hand costs you gems to play. In the early levels each match will cost you 50 gems, but once you hit Lucky Lane that cost skyrockets. And as you earn gems the lower tiered "casinos" will close up shop leaving the pricier establishments the only option.
The first casino costs 550 gems to play and you are rewarded with 1000 gems if you win. So if you lose the first and win the second you'll pretty much break even. Even with a generous free gems plan in the game, a couple of losses and you could be sunk for a while. How fun is that? Where I have progressed so far my minimum buy-in is 1,100 tokens with a payout of 2,000 should I win.
The wealthier casinos have the same 1.1:2 ratio for buy-ins. Pay 2,200 to win 4,000, 5,500 to win 10,000, and 10,750 to win 20,000. Okay so that last one has a bit of a discount. They continue to rise as well with three tiers above that, including the premium currency casino.
Beyond the gems there are gold bars, which you can get by paying real world money. These can be then converted into gems. You can also win bars in a side mini-game called Hearts or Spades. In this minigame you flip over cards into separate piles, guessing if the card will be a heart or a spade. For two gold bars you can win up to 30,000 gems if you match enough in succession. Three wrong guesses and you'll get a small concession prize. You can play this game for free once every 24 hours as well.
All in all, I'm not really sure what the endgame is in buying anything in the game. I can understand in some games where you collect things like virtual collectible cards, but there doesn't seem to be any goal to strive towards. You can select any casino at any time, so long as you have the money to back it up.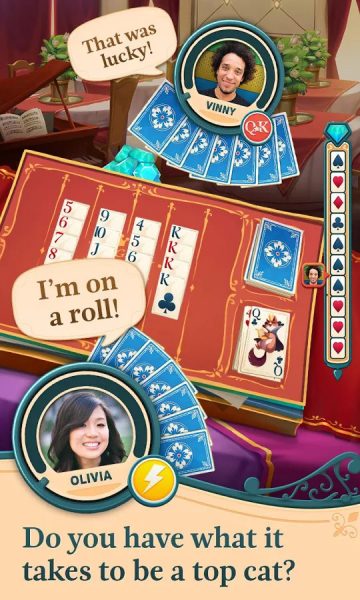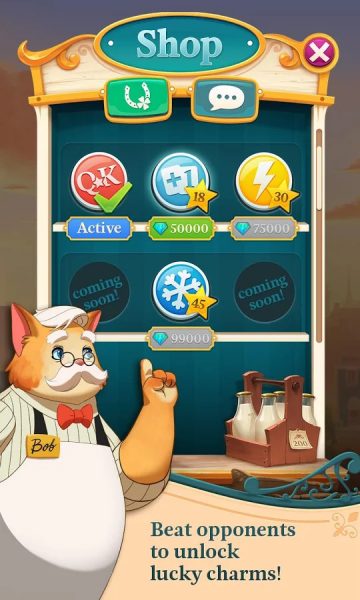 Leveling up and unlocking the various helper badges seems to be it.
Now about that free gems plan. Every four hours you can redeem 550 free gems from the game, which is enough for one play at the 1,000 casino. Of course once that's closed you'll have to wait 8 hours to get enough gems for one play at the 1,100 gems casino, which is my minimum right now.
If you like Rummy, and I know a lot of my older relatives who do, then the simple game in Shuffle Cats will likely entice them. Add to that the cute 1920s casino look and music, coupled with the cutesy 1920 looking cartoon cat characters and that crowd will likely be very entertained. For myself it's a nice simple little diversion which is fun to play.
I just don't know what I'm supposed to be excited for in this game.