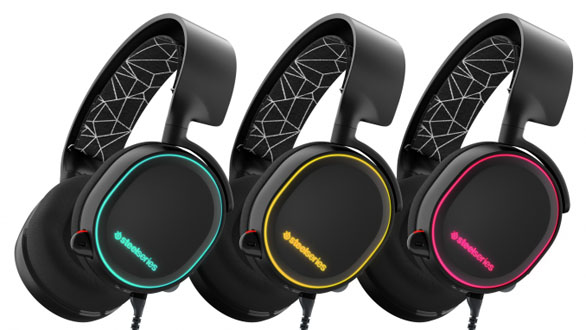 It's been awhile since I've picked up a new pair of headphones. My last pair that I actively used on a frequent basis was a Diablo 3 themed set of SteelSeries Siberia v2 headphones. They are beautiful, comfortably, and provided great sound quality! Amazon lists that headset as being available starting in 2012. That's way back when our blog first started. Six years later after extensive use it was time to get a new pair though. For a pair of headphones these days, that's actually quite impressive that they'd only just started to fail. Again, that was after LOTS of use.
The Arctis line of headsets launched a couple years ago now. I wasn't expecting much. Typically I do a lot of art on my computer so music quality is the main thing that matters to me. I'd tried out some other headphones and none of them really felt like my Siberia v2 headset. The audio elsewhere was typically good with lots of quality acoustics, but there wasn't that deep bass that I wanted and comfort that I'd become used to.
Checking out SteelSeries site I'd requested a pair for us to review. We've come a long way and the company was gracious enough to provide us with a headset. Obviously I wasn't thinking of the time between headsets. All that was on my mind was that I had a replacement for my old favorites. These ones looked modern and with what fans online call a ski goggles band for across the top inside for comfort. My old Diablo Siberia v2 pair had more of a hammock band held in place by wires. It doesn't sound pleasant but it eased into place well and had very little tension.
These new headphones just looked modern and not very comfortable. Oh how wrong I was.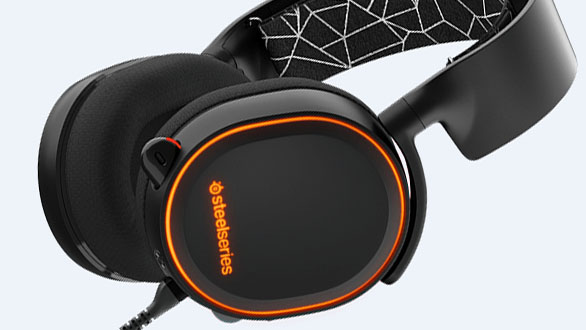 First off, the ear cups on the SteelSeries Arctis 5 are wonderful. To begin with, I wear glasses. With headphones there's a good chance that extended usage is going to be uncomfortable. With this headset that just isn't a problem. They're plush and cover my ears over well to block out more sound that I'm pretty sure even my old pair did. Which makes sense with these technically being an upgrade.
Audio quality is good and setup didn't take long. So I didn't think much else at first. Listening to a few tunes however I just felt the bass could use some boosting. So I looked into some options online. I was surprised to see talk of a fix quite early on. There was a user discussing how to delete the drivers, unplug the headset, and then reinstall them so Windows would detect the option for bass boosting. That just sounded ridiculous like some kind of fix from the early 90s. Yet I tried it out and sure enough there was the option!
Wow.
After boosting up the bass all I could think was why wasn't this a switch on the headphones. I have never had a pair of headphones with this kind of quality. Right now I'm just listening to streaming music on Spotify and I'm talking concert quality sound. Sure, the stream quality is only so good but that just means from a better source the audio is even clearer. It really is the bass that comes through so well on these headphones that makes them stand out. There's just this depth it adds to everything that makes me love them. Sure, this took a bit to tweaking but it's not hard to do at all. These headphones are better than my Siberia v2 set and those were my favorite.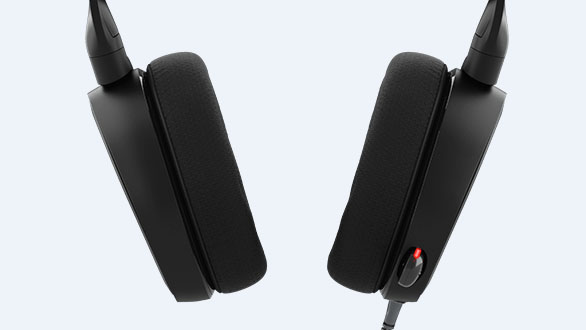 It's an absolute treat to use these. I just wish the bass boosting was some sort of universal option. Unfortunately that option is only available on my computer. I haven't found a way to boost the bass yet on my game consoles. The quality is still there and they are so comfortable, even with my glasses on. I'm just a bass addict that wishes I could have those deep tones these puppies put out on PC also on my consoles.
The setup is quite nice. The ski goggle strap that goes over your head is adjustable and feels good. The ear cups are wonderful and don't feel tight at all. Which is surprising. because they do have a bit of tension to them. They're just well constructed and don't apply any unwanted pressure. This could be due to their ability to turn as well. Each side of the headphone, the ear cup section with the speaker in it, can rotate 90 degrees. It's odd to get used to at first when you're picking them up, but I assume again this is part of what gives that comfort.
One thing I don't care much for is the placement of the volume control on the left side of the headset itself. It makes for easy control but it's places exactly where my hands go when I'm taking them off for putting them on. That's just something else I've had to get used to and certainly not a deal breaker, but it felt strange after having a volume control in line for so long. But it does seem to be the more modern trend. There is a control on the line which allows you to set the volume levels between audio and chat. That can be handy as well besides the odd time I accidentally bumped it over to full chat and didn't know why I wasn't getting any audio from my PC. That's more troubleshooting than an issue though and the in line volume adjuster does have a slight dip that helps to keep it centered.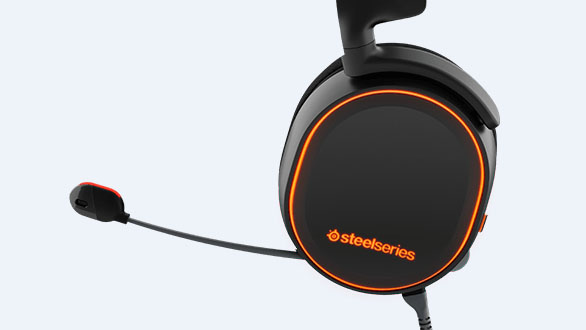 The mic itself extends from the left earpiece much like the Siberia v2 headset. However the mic potentially seems to be more directional. This is good for streaming since you need to get it close to the corner of your mouth to get good volume. Thanks to this positioning it should cut down on outside audio quite well. I haven't had a chance to try it out much but that does seem quite convenient. The quality was okay, but for regular gaming it's good. I'm probably more picky since I do a lot of very high quality audio recording for my animation projects as well.
Yes, I did receive these as a review unit, but I'm being completely honest when I say these are the best headphones I own. Without a doubt I would have gladly paid for these and had no regrets at the retail value. The look of them is very modern, and so is the quality. My previous headset was great, but these are clearly the current generation. That and as different as the look was when I first checked them out, I'm really a fan of them! They have this eSports look that is just clean.
I was pleased to see that not only can you customize the glowing on the side of the headset, which looks very neat and clean on the Arctis 5, but those settings seem to be saved to the headset itself. Choosing my custom hue of blue on my PC, the same color showed up when I plugged the headphones into my PS4. I feel this is a really nice design choice because I can personalize my headset and it functions as I want elsewhere.
They look good, they're comfortable, and they have great quality sound! Out of everything I've tried SteelSeries is my choice.
Please note, our rating system below is for games. Only the overall score relates to hardware such as this review.