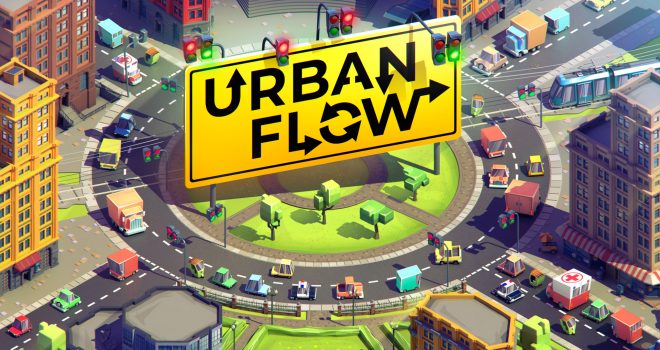 I'm a weird one. I have interests that would make some people scratch their heads. One of those interests is a childhood fascination with traffic signals. I had an electronic toy traffic signal as a kid and even had a friend buy me a real traffic light from a flea market years later.
Urban Flow is a game about the subtle beauty of city streets filled with cars moving in perfect harmony. But such order does not happen all by itself – the city needs YOU to control the traffic lights and to make sure everything goes smoothly. That means no crashes, no jams. Everything will run perfectly – as long as you stay focused!
A game about traffic lights? I was sold right away.
Urban Flow is a relaxed yet frantic puzzle game where you have one mechanic to complete each level – control the traffic lights.
Each of the levels gives you control over a number of different signals. While you can control the traffic signals, not all of the traffic flow is under the pervue of said signals. Some of the traffic flow doesn't have any signals controlling them. In those cases you need to control the flow of traffic around them.
Each of the signals is assigned to a different button. Depending on the level there may be several signals linked together while other levels have more signals than buttons, meaning some signals require pressing [L] and another button.
To add to the complexity of levels there are also vehicles that have different priorities. Ambulances have to clear the screen before their timer runs out. Army vehicles don't obey the signals at all. They not only won't obey the signals but also won't stop for other traffic.
If any of the vehicles have an accident you'll lose a heart. Too many wrecks and you'll lose the level.
Oh, and another thing to shake things up – if you leave cars sitting at a red light too long the signal will change to green on its own and let those cars loose.
So how do you finish and win the level? The goal of each level is to keep the traffic moving. Control the traffic lights and let the traffic safely move across the screen. After a predetermined number of vehicles have passed in each level you'll win the level.
This slideshow requires JavaScript.
The developers did a nice job of balancing the mix of levels.  Each new level isn't always harder than the last. After finishing a particularly tough level you're often treated to a simple one. You'll also only need a one star victory to move on, though three stars is the ultimate goal.
The game takes place in a beautiful, hand-crafted, low-poly world. There are over 100 levels, each with its own busy intersection. Urban Flow has a multiplayer element as well, though I only played the single player.
Urban Flow can be played in both handheld, tabletop, and docked modes. In handheld mode the game can be played via the touch screen, which really lends itself to the gameplay. Urban Flow is the kind of game you would find for mobile devices so touch screen input makes sense. It's actually a great way to play in handheld as tapping on the signals takes some of the confusion over the sometimes rapid fire signal switching needed.
Urban Flow is a simple and fun game. It's a basic concept that works well and is fun to play.