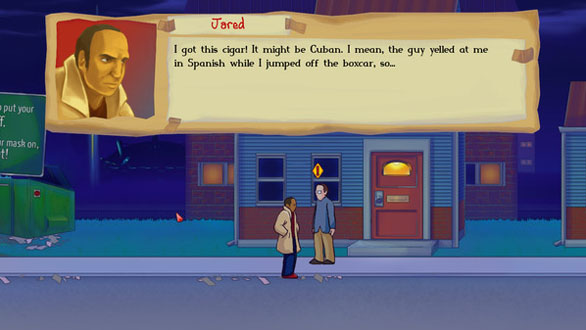 Jared Dent is a disgraced fighter who is just returning to the town of Whateville. Since then, all of his old wrestling companions have moved on in life. You're given the task of meeting these old co-workers as it were, and making things right between them and Jared. Well, that's one option. The other is to travel across town and beat the living snot out of everyone you see to resolve your feelings.
As shallow as that may sound, the game actually has a decent narrative to it. The dialogue is comical and enjoyable to read, which makes visiting the various locations worthwhile to explore. In total there are six main areas to visit and talk to people in. Gameplay feels like a more action oriented adventure game. You talk to characters, sometimes decide what sort of dialogue you want to respond with, and other times decide full out what sort of meaning and tone you want to put into your response.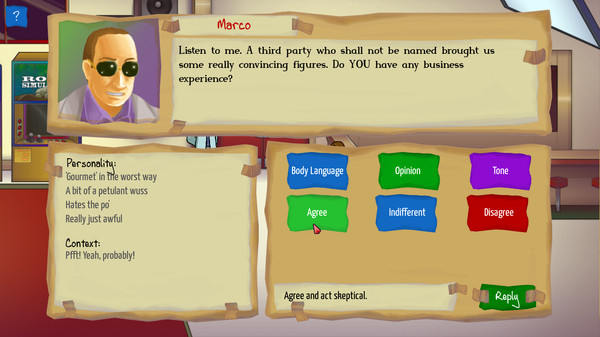 In general I found that pretty easy to use, or I just got lucky a lot. Gamers select body language, opinion, and tone to some of their responses. In a way, this is the alternative to the fights you are meant to have. So you can battle with your fists or your wit. This also does change the ending to the game as well, depending on what sort of resolution you decide on.
Combat itself is quite straight forward and easy going, which is a good thing. Being more of an adventure game it keeps your focus on the story. I didn't play through insane difficulty which doesn't restore any of your health as you progress however. You do even earn items throughout the game that can be equipped to give you stat boosts. Your speed stat even affects how quickly you normally walk throughout the game. You have three attacks which you can mix up well in combat. It may seem easy in some cases to just use shoulder barge, but enemies do follow you as you rush past and some of the lighter attacks may be all that saves you from damage.
As noted earlier about the dialogue, there is some good comical writing here. Your ex-wrestler friends have stories to tell and aren't just flat characters. About the only issue I had was not playing the game in one sitting, which is funny in itself since the game isn't very long. The issue was when I came back to the game, I couldn't remember at first where my hobo friend wanted me to obtain an item for him. Fortunately that shouldn't be an issue in general since the game isn't very long. It took me two hours to play through the game and experience two endings in one play through.
Another thing is to remember to complete your conversations and not to just solve someone's problem and assume they're happy now. You need that resolution to be able to wrap up the games ending. There was probably just a couple mentions in the in game journal I didn't catch at one point, but I quickly wrapped up any outstanding quests.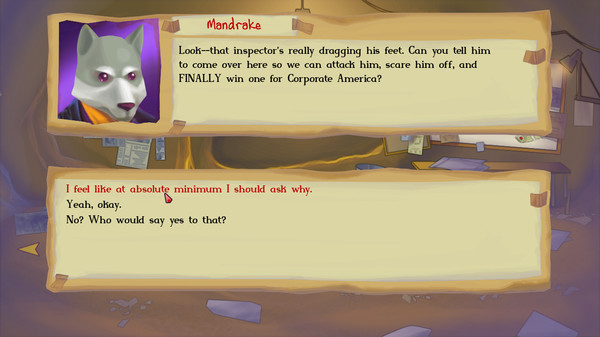 The art is fun, the dialogue is entertaining, and for the relatively low asking price Will Fight For Food is a fun title. I wish there had been more side scrolling brawler style moments in it to battle through areas, but it was worthwhile. That probably would have added some good padding that would have made this a lengthier game. If nothing else, WFFF has charm and a hero who really doesn't have a strong opinion in life. It's up to you to make him into the wrestler you want him to be. The game itself may seem short, but if you take all the times you've gotten stuck in a classic adventure title, it's not really that much different.