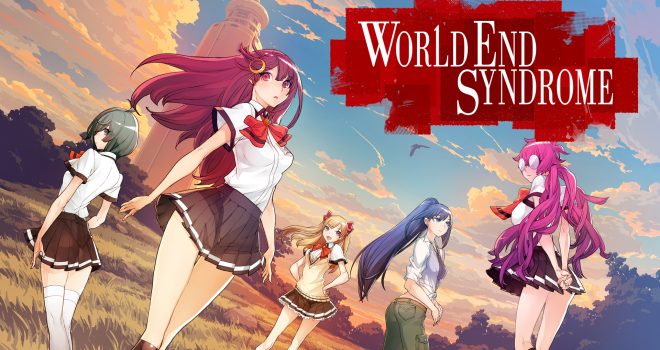 I'm going to start of this review with the end at the beginning. I loved World End Syndrome  and I highly recommend it.
World End Syndrome is a romantic adventure visual novel game that follows the story of a 17-year-old high school junior trying to escape his troubled past. After causing an accident resulting in his older sister's death, he receives an invitation to transfer to Mihate High School. He takes it gratefully, hoping to start a new life and forget his past. As he navigates his life at a new school with a colorful cast of new friends, a student at Mihate High suddenly dies. The murder sends shockwaves through the idyllic town as he finds himself caught in a string of strange incidents, romance, and unforgettable summer experiences.
World End Syndrome has beautiful animated backgrounds which creates a sense of life in the mostly still frames of a visual novel. It makes the game feel alive and even more like an anime. The characters also look great. They blink and their mouths move when they talk, which is nice as the visual novel is nearly fully voiced. The voice cast do an amazing job and the characters are wonderfully acted.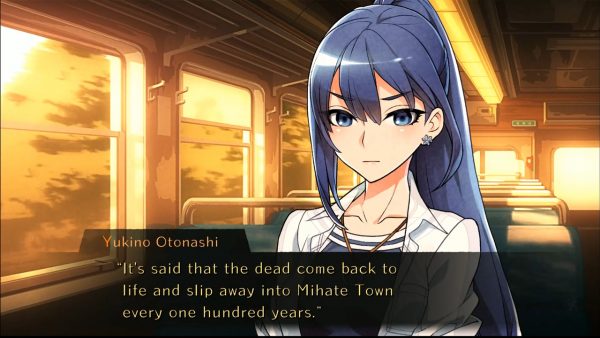 The game had a diverging story which had you focusing your attention on one of the five main girls in the group. You are given a few small choices in the early part of the story which leads you on the story path. Then you're given a lot of freedom.
With a map of the town you can select from a handful of places in the town to venture off to. You can choose three places per day, aside from a few times that some required narrative happens. You can choose to go to places to further your character storyline or anywhere else you choose.
One thing that I loved with the game is that when you reach the end of the story and either roll credits or get a bad ending you select 'new game' and you play through again, but it's different. Even when you choose the same path after getting a bad result you can learn more about the mystery.
You'll need to make multiple passes through the game to reach the truth ending and it's definitely worth the hours out in.
It's a little like the movie groundhog day except the character doesn't remember anything. But you do.
I'm not much of a reader in the traditional sense and I never understood how some can miss a book when it's over but I can totally relate now. Now that I've played through the story of World End Syndrome a half dozen times I'm sad the sorry had come to an end.
The truth at the end was also shocking and heartbreaking multiple times. Be prepared to shed a tear or three by the end of it all.
Thinking back to the characters, they are all fleshed out three dimensional characters. That's what makes it so much harder when you reach the end. Moreso for the ones that don't make it to the end. That's also where the multiple playthroughs make the story and characters solid.
Visiting random areas in the town when you're feeling out what to do, or if you don't have any specific to do, can lead to character interactions that give you more insight into a character. It not only helps to make that character more fully rounded, but also can give you tips and clues for the next playthrough.
The story is so good but I won't spoil any of it. It's compelling, funny, heart warming, and in the end also heart wrenching. I loved every minute of World End Syndrome.